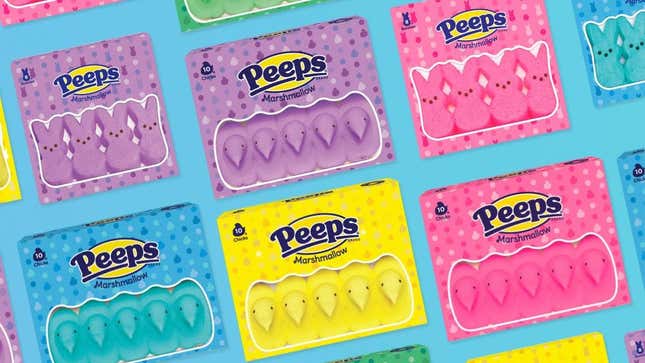 It's a debate that has raged for eons: Are Peeps delicious or disgusting? No matter where you fall on the matter of these marshmallow chicks and bunnies, the highly divisive confection rears its sugar-dusted head not just every Easter, but now every holiday, appearing in more new shapes, flavors, and formats than ever before. The Peeps lineup announced for spring 2023 only underlines just how much this treat has exploded in recent years—and things are getting weird.
How To Dispose Of Cooking Grease The Easy Way After Frying
Peeps, past and present
It wasn't always like this. When I was growing up, Peeps showed up on shelves exactly once a year, mostly in one color (yellow), one configuration (a line of four chicks in a cardboard sleeve), and one flavor (sugar). Just Born Quality Confections has been making Peeps since 1953 when it acquired the company that produced them, and for about 50 years, the company stuck to that tried-and-true formula. The surge of Easter sales would sustain the company throughout much of the year.
It's only in recent years that Just Born has begun to serve its most passionate Peeps fans with new products and innovations—in part because it wasn't clear until the dawn of the internet age that such a huge and avid fan base existed.
"When the internet came around in the late '90s and early 2000s, that's when we realized there were so many Peeps fans who had websites out there before we even had our own website," Caitlin Servian, brand manager of Peeps and seasonal candy for Just Born, told The Takeout in 2022. The natural next step was to cater to these customers, with new products and merch that celebrated a love of all things Peeps.
But the truly genius move wasn't printing Peeps on a mug or beach towel—it was strategic brand partnerships, licensing the Peeps likeness and flavor profile to expand the influence of Easter's most iconic treat. The breakout moment for the brand came as recently as 2017, when a limited-edition Peeps flavored Oreo hit the market. It was like a dam had burst, and new Peeps collabs have flooded the market each year ever since.
All the Peeps stuff you can buy in 2023
Working with what the brand calls its PEEPStastic Partners, Peeps has unveiled a whole slate of new products, flavors, and innovations for 2023. Peeps fans will find a lot to love here, while haters will, of course, find much reason to be horrified.
First of all, there are all the Peeps flavors you can buy this year, which were announced via press release back in January. The announcement came "earlier than ever" this year, in honor of the brand's 70th anniversary. Those flavors are:
Peeps Mike & Ike Flavored Pop (new in 2023)
Dr. Pepper Flavored Peeps (new in 2023, only at Walmart)
Peeps Kettle Corn Flavored Marshmallow Chicks (new in 2023, only at Kroger brand stores)
Peeps Marshmallow Chicks and Bunnies
Peeps Marshmallow Rainbow Pop
Peeps Sparkly Wild Berry Flavored Marshmallow Bunnies
Peeps Cotton Candy Flavored Marshmallow Chicks
Peeps Fruit Punch Flavored Marshmallow Chicks
Peeps Hot Tamales Fierce Cinnamon Flavored Marshmallow Chicks
Peeps Party Cake Flavored Marshmallow Chicks

Peeps Sour Watermelon Flavored Marshmallow Chicks
Peeps Delights Marshmallow Chicks Dipped in Milk Chocolate
Peeps Marshmallow Decorated Eggs
Peeps Milk Chocolate Covered Marshmallow Chicks
Peeps Easter Essentials (Available only at Sam's Club)
Peeps Tropical Burst Flavored Marshmallow Chicks (Available only at Target)
Peeps Delights Strawberry Flavored Marshmallow Dipped in Milk Chocolate (Available only at Target and Cracker Barrel)
I'm personally happy to see Sour Watermelon Peeps back in stores, since it's the flavor that made me fall in love with Peeps in the first place and see their true potential. Gone, tragically, are the Blue Raspberry Peeps introduced in 2021, though I hold out hope that they will, in keeping with the Easter season, be resurrected at some point in the future.
Here are a few other edible licensed Peeps offerings this year, which demonstrate the breadth and depth of this candy's influence in 2023:
Easter isn't till April, so these cute and cuddly marshmallow creations will still dominate store shelves for a while. Since 2023 is seemingly Peeps' biggest year yet, the lineup offers a little something for everyone. While I'm looking forward to sinking my teeth into some Dr. Pepper Peeps, I'll refrain from spending $59 on a pair of sandals—some things are best left to the diehards.