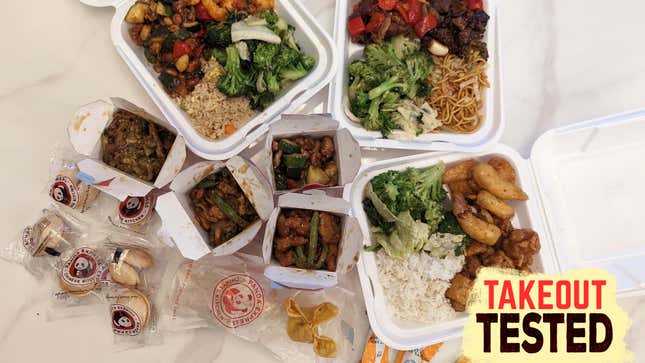 American Chinese food catches a lot of flack in both circles. Its authenticity is often disputed, and it's commonly written off as a "guilty pleasure" by those who indulge in it. But the fact is, this food has become its own genre of regional Chinese cuisine and some of its dishes are as American as apple pie. Find yourself a cuisine that can do both.
I was raised on red pork with yellow-dyed fried rice and the deep-fried sugar chicken we call General Tso's. Being that my family operated a restaurant on Long Island, New York, where takeout competition is fierce and standards are high, I was spoiled with the very best American Chinese. And by "spoiled," I mean ruined.
Once I moved away, I was hard-pressed to find dishes like lo mein and boneless ribs that came close to the quality of my dad's. In Atlanta, where I now live, we have a wealth of "authentic" Chinese establishments, but old-school counter-serve takeout is harder to come by. Here to fill in the gap is Panda Express, a California-based, Chinese American family-owned quick service chain. With hundreds of locations nationwide, Panda Express is taking up the torch once held by a network of independent family-owned restaurants. But does the brand do it well? How do its dishes compare to the staples found at traditional American Chinese takeouts?
Panda's spokesfolks assure me that "all of [the] back-of-house associates are trained by the most senior chef, shift leaders, and/or general managers" via online module courses and extensive in-person training. Cool, but I'm still skeptical.
But they went on to say that the master chefs do use the traditional open flame ranges, cooking only small batches at a time in eight-pound woks using the showy tossing technique that captures wok hei, as well as the easier tumble-cooking stir-fry methods. Okay, a few more legitimacy points scored.
Ultimately, the only way to find out if Panda Express can hold a candle to the wok-fired takeout my father, grandfather, and their colleagues all mastered over years of apprenticeship, training, and experience is to go in undercover and order an unreasonable amount of food for one person. Here's how 14 dishes measure up.