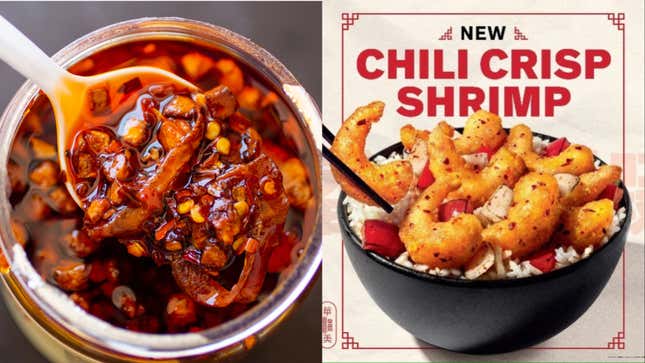 The condiment known as chili crisp has grown quite popular in the United States over the past decade, and finally, one fast food chain has figured out that it's time to hop aboard the hype train. Panda Express has released a new limited-time-only entrée, Chili Crisp Shrimp, featuring lightly breaded shrimp wok-tossed with red bell peppers and onions, all dressed in garlic chili crisp.
How To Dispose Of Cooking Grease The Easy Way After Frying
It's about damn time this ingredient started featuring prominently in American fast food. Chili crisp is a terrific condiment that belongs on pretty much anything you'd want hot sauce on, its bold flavor boosted by the richness of oil, crunchy bits of chili, and other aromatics. Good on you, Panda Express.
What is chili crisp?
Chili crisp is a Chinese oil-based condiment that's composed of dried chili flakes, garlic, onions, green onions, and other seasonings. It can be made in various ways, but heat is always applied in the process, either by simmering the ingredients in oil or by pouring hot oil over the base ingredients and letting the residual heat do the work.
How do you use chili crisp?
Traditionally, chili crisp is used as a finishing ingredient, meaning you stir it into a dish right before serving. But tradition be damned—these days, you can spoon it over anything, and I mean anything. Try it on eggs, rice, pizza, chicken—wherever you like to add some hot sauce, chili crisp can take its place. And if you want to try something more experimental, chili crisp is great on ice cream. Yep, I said ice cream.
Where can you get chili crisp?
At this point, chili crisp has become popular enough that you can find multiple brands in nearly any supermarket (and online), though they're easiest to find in Asian grocery stores, usually in the sauce aisle.
If you're a novice, you can read through our ranking of store-bought chili crisps, Of the six we taste-tested, you might be pleased to hear that our favorite is also the most affordable and widely available of the bunch.
How long will Panda Express' Chili Crisp Shrimp be available?
Panda Express' Chili Crisp Shrimp will actually be around for a while, unlike most limited-time fast food promotions. It's available until the end of December, which means you don't have to hustle to get your hands on it. Panda Express isn't the only chain playing around with chili crisp at the moment—Taco Bell recently ran a sneaky test run of Chili Crisp Chicken Strips in one location in California—but it's the only one to roll out this condiment nationwide for such an extended period of time.
That being said, if you somehow miss out, you can always buy your own jar of chili crisp to use at home. Again, it belongs on pretty much everything. You don't have to limit yourself to what you can get at Panda Express.