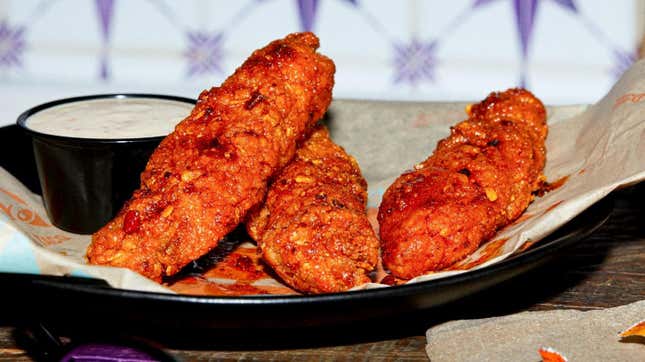 With a menu literally dripping in beefy options (Crunchwraps, Beefy 5-Layer Burritos, Mexican Pizzas, etc.), Taco Bell's lighter ventures into poultry tend to stand out, but flame out quickly. The Tex-Mex fast food chain is once again attempting to branch out by adding some eye-catching chicken to the menu, but per an a recent press release announcing the rollout, the brand is treading lightly with its latest offerings.
How To Dispose Of Cooking Grease The Easy Way After Frying
In a one-restaurant test run that will only last one week (or while supplies last), Taco Bell will debut two new chicken-based menu items in California. Chile Crisp Chicken is the new protein being tested as the foundation for Taco Bell's Chile Crisp Chicken Tacos and Chile Crisp Chicken Strips. Again, in case the limited run wasn't clear, the availability of these items is purely restricted to a single restaurant location in Newport Beach, California.
Taco Bell's new Chile Crisp Chicken menu sounds delicious
The Chile Crisp Chicken Taco consists of a crispy chicken strip smothered in a new Chile Crisp Sauce, topped with spicy ranch, lettuce, and shredded cheddar cheese inside a warm flour tortilla. The taco comes two per order and sells for $4.99. The chicken strips featured in the tacos will also be sold as their own menu item, with three pieces to an order plus a spicy ranch dipping sauce for the same price.
Taco Bell describes the new Chile Crisp Sauce, the star of the show, as "a sweet, spicy, and citrusy sauce" that contains bits of guajillo, ancho, and anaheim peppers, as well as garlic, lime, and "other hints of aromatics." Why apply this combo to chicken? Because, as the announcement notes, "An emerging trend the brand has its eyes on is how fans are craving chicken now more than ever."
Taco Bell also tested a different chicken entree back in March, a representative told The Takeout via email. The Cheesy Chicken Crispanada was tested only in Knoxville, Tennessee for a limited time. The offering consisted of a crispy pastry shell, filled with shredded chicken and melted cheeses, that was then folded and fried and served with a side of spicy ranch sauce. It was available a la carte for $3.49, or as part of a box option with a crunchy taco, cinnamon twists, and a medium drink for $8.49. That test run, just like this latest one, was incredibly limited, and it's unclear how successful the Newport Beach test will have to be to make Chile Crisp Chicken a reality for Taco Bell fans nationwide. Here's hoping those coastal folks enjoy their spicy smothered poultry, because they're our only hope.