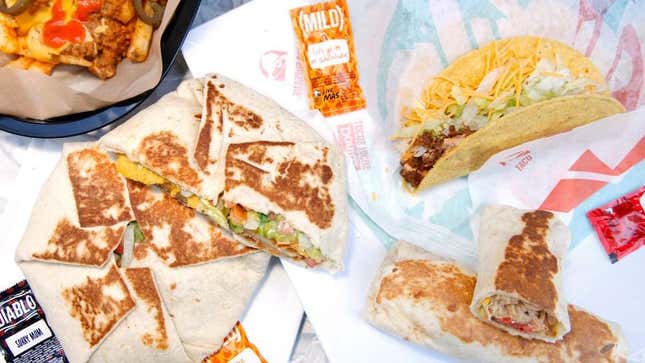 Have you ever felt shortchanged by a fast food menu item, noticing the discrepancy between what was advertised and what you actually received? If so, allow me to introduce you to Frank Siragusa, the plaintiff in a class action lawsuit filed on July 31 alleging that Taco Bell misrepresented the amount of meat and beans in its products.
How To Dispose Of Cooking Grease The Easy Way After Frying
The Taco Bell class action lawsuit, explained
According to the complaint, Taco Bell engages in "unfair and deceptive trade practices for falsely advertising the amount of beef and/or ingredients contained in Taco Bell's Crunchwrap Supreme®, Grande Crunchwrap®, Vegan Crunchwrap®, Mexican Pizza, and Veggie Mexican Pizza menu items (the 'Overstated Menu Items')."
Siragusa is a resident of Ridgewood, New York, and this legal action is concerning Taco Bells in the state of New York. So if you are a New York resident who has ordered Taco Bell since July 31, 2020, hopefully you kept your receipts—there is a chance you could be a plaintiff.
The complaint brings forward images of Taco Bell's menu items as advertised compared to photos taken by customers of the orders they received. The advertisements are, of course, mouthwatering: gooey golden nacho cheese cascading over cliffs of perfectly browned ground beef. But the images of the real-life menu items are a far cry from that beautiful promise. The tortillas appear saggy rather than crisp, the lettuce looks more wilted, and the amount of meat seems to fall short of the proportions depicted in the marketing images.
The lawsuit alleges that "Taco Bell materially overstates the amount of beef and/or ingredients contained in its advertisements for the Overstated Menu Items by at least double the amount."
Other notable food lawsuits
If eating fast food is an American pastime, so is holding fast food brands accountable for what they sell. This isn't the first class action lawsuit that The Russo Firm, the law firm employed by the plaintiff, has filed recently. In 2022, the firm filed a similar complaint against Burger King, alleging that the images in Whopper advertisements materially overstated the size of its burgers.
Last year, Barilla was sued for use of its slogan, "Italy's No. 1 brand of pasta," which the lawsuit claimed was misleading since Barilla pasta is manufactured in the United States. In 2020, Canada Dry was sued for not having enough ginger in its product to justify its claim of being "made with real ginger." And just last month, the manufacturer behind TGI Fridays branded mozzarella stick snacks settled in a lawsuit alleging false advertising as the product contains no mozzarella cheese (only cheddar).
If you've ever bought a burger or a taco from a national chain, you know that the advertising that lures you in probably depicts more of an idealized version of the product than an honest representation of it. But there are consumer protections in place to defend against these disparities, and buying a product that is devalued from its advertisement is something the Federal Trade Commission is tasked with monitoring. According to its website, the FTC "looks especially closely at advertising claims that can affect consumers' health or their pocketbooks."
Given that the complaint against Taco Bell was filed only yesterday, it remains to be seen whether the company will settle. But it is troubling to think that any amount of Taco Bell consumers find themselves unable to Live Más—their federally protected right as Americans.