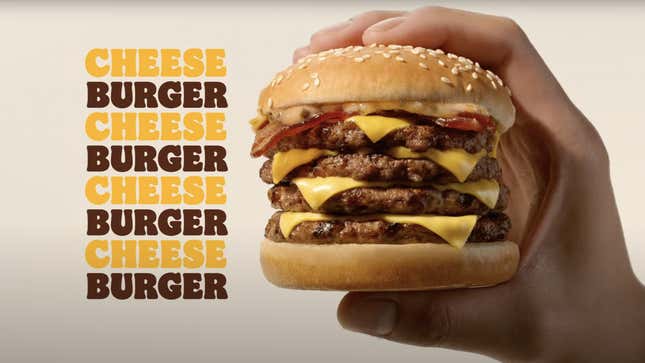 A couple weeks ago, I wrote about how everyone is remixing Burger King's new Whopper jingle. The commercials have been so prominent during NFL games that the beginning of the song has become a Pavlovian bell for football fans across the country. If you start singing "Whopper, Whopper, Whopper, Whopper" in a crowd of people, at least one other person will start singing with you. They might even crave a burger, or so Burger King hopes.
How To Dispose Of Cooking Grease The Easy Way After Frying
As expected, Burger King is rolling with its new viral hit and trying to keep the momentum going. In fact, the company released its first-ever EP on Spotify on February 3. The two-track release includes the original hit, "Whopper Whopper," and the jingle from its latest BK Stackers ad, "Burger Cheese Burger Cheese." Each track is exactly one minute; the 30-second Whopper jingle repeats twice, while the 15-second Stackers jingle repeats four times.
This is obviously brand messaging at its finest, as the short jingle cuts right to the chase and reiterates its sales pitch over and over. "BK Stackers. Bun, burger, cheese. Burger, cheese, burger, cheese, burger, cheese. Burger, cheese, bacon, burger, cheese. We can do this all day." Certainly, the fast food giant hopes you're listening to its jingle all day. Perhaps I'm easily suggestible, but after just one listen, I feel the overwhelming urge to order a cheeseburger (though I admit I probably wouldn't get it from Burger King).
My own taste aside, this marketing campaign is unquestionably resonating with the intended audience, and the short runtime makes it perfectly suited to TikTok and Instagram. According to a representative from Burger King, the "You Rule" EP garnered 50,000 listens in its first weekend, thanks in no small part to the myriad remixes that have been popping up on social media. While going viral is obviously never a guarantee for any brand, this whole ad campaign was certainly designed with virality in mind.
"We were talking, like, 'Wouldn't it be funny if people just sang about Burger King, super simple, with a catchy jingle?"a creative director at OKRP, the agency behind the campaign, told Ad Age. "We knew we wanted something that wasn't too heavy on the instrumentation, so the words could be the star."
Obviously, Burger King is thrilled with the results. "It's been awesome to see how much it's gone off," another member of the creative team told Ad Age. "People have really reacted to it... You can't help but trip over this thing everywhere."
But has the resonance translated into any actual sales? Burger King's VP of Marketing Communications, Zahra Nurani, told The Takeout that although the company can't comment on specific sales figures, the campaign scored 99% in brand recall, which measures "the percentage of people noticing a brand being advertised."
Nurani also assured us that the company sees all the remixes that are posted online—and the team absolutely loves them. In fact, Burger King released a second EP on February 6 with the six other jingles from the campaign, including my personal favorite, "Chicken, Chicken." 
Is it too late to ask Rihanna to perform both EPs in full during the Super Bowl halftime show this Sunday?