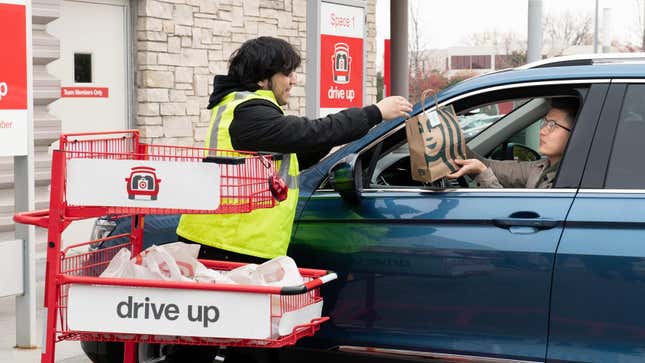 Starbucks has, for years, presented a stumbling block to its customers: the Starbucks Rewards loyalty program can't be used everywhere, and the ordering system isn't consistent across all licensed/franchise locations, meaning conveniences like online ordering and mobile pickup aren't always available. However, ABC News reports that a new mobile pickup feature is headed to Target, which could soon make things a lot more convenient for some of Starbucks' (and Target's) most loyal customers.
We Rank Three New Grillo's Pickles Flavors
The new service allows Target customers to make returns using the store's curbside pickup service, and as part of the rollout, some locations are also letting customers pick up Starbucks as part of the transaction. This is where it all gets interesting.
Starbucks' relationship with Target
Walking around a Target with your favorite Starbucks drink in hand is a form of self care unmatched by your average retail therapy. There's an element of both power and bliss as I stroll through aisles full of items I won't end up buying and aisles in which I'll exclusively buy items I don't need.
G/O Media may get a commission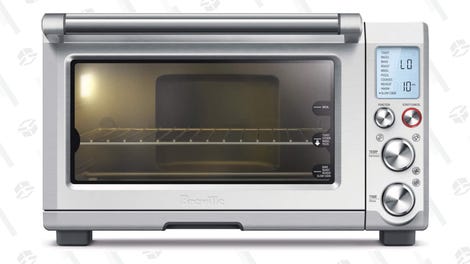 36% Off
Breville Smart Oven
However, there are some improvements needed when it comes to how Target and Starbucks coexist to create this experience. The coffee chain's own leadership has acknowledged in the past that the customer experience in licensed locations (such as Starbucks counters inside Target stores) doesn't match what customers can expect in a company-owned Starbucks store.
"Today, we deliver an inconsistent experience between our company-operated stores and our licensed stores," executive vice president and chief marketing officer Brady Brewer said at an Investor Day event last September. To remedy this, the coffee chain announced at the time that it would be updating its technology so that loyalty members could (eventually) redeem Starbucks Rewards Stars at locations like Kroger, Jewel-Osco, gas stations, and airports, all places where they previously could not.
However, a Starbucks representative also clarified to The Takeout last year that the coffee chain had no plans to bring mobile ordering capabilities to any of its locations inside Target stores. But according to a press release sent to The Takeout near the end of last year, that showed signs of changing.
In November of 2022, Target officially launched Starbucks with Drive Up service at 240 Target stores in California, Delaware, Minnesota, New Jersey, Pennsylvania, Texas, Washington, and West Virginia. At participating stores, after a customer places a Drive Up order through the Target app and receives a notification that it's ready, they then indicate via the app that they're on their way to pick up the order. Once the customer does that, they receive a prompt that allows them to add Starbucks to their mobile order.
What you can and can't do using Starbucks with Target Drive Up
As awesome as it is that you can now roll up to Target, make a return, pick up your groceries, and drive away with a latté in hand, there are a few restrictions.
First off, in order to even have the option to order Starbucks mobile pickup from Target, you have to have an existing Target Drive Up order in place. You can't just order Starbucks for curbside pickup at your local Target. You also have to indicate that you're on your way to pick up before you can add Starbucks to the order; this is to ensure the drinks are fresh when you get there.
A Target representative clarified to The Takeout that customers still can't redeem Starbucks Rewards Stars when picking up their Starbucks order at a Target store, and customers won't earn any Stars through placing these orders either. However, the representative noted that Target customers can use their Target RedCard to get 5% off the entire order, which is the brand's usual everyday offer.
On the bright side, if the new Starbucks feature is available at your Target location, you have access to the entire Starbucks cafe menu and can customize your drink order as you normally would. Additionally, a Target representative told The Takeout that the company is pleased with customer response to the Drive Up feature so far and hopes to expand the program to more of its stores nationwide. The press release also notes that Target plans to continue enhancing the service over time.
Starbucks and Target have had a partnership for more than 20 years and there are more than 1,700 Starbucks locations inside Target stores throughout the country, so it only makes sense to continue plugging holes in the partnership and adding features that loyal customers want to see. Hopefully, the Stars are the limit when it comes to how much better this feature can get.