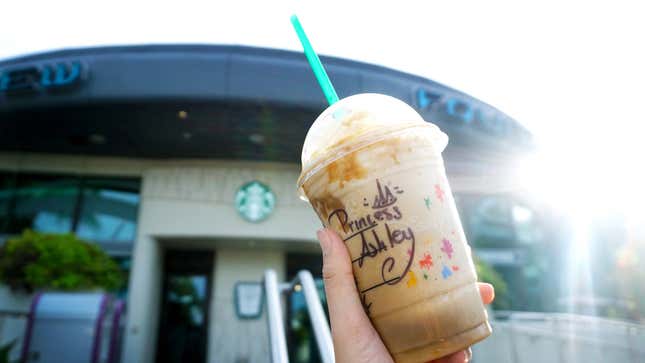 Life is full of big questions: What does it mean to be human? How can we become better people? Where should we be buying coffee during our vacation at Walt Disney World Resort in Orlando, Florida? The answer to at least one of these queries can be found at the Disney Food Blog, a delightfully obsessive resource for anyone traveling to the world's largest amusement park.
How To Dispose Of Cooking Grease The Easy Way After Frying
As someone whose drip coffee maker has always served her well, I try to keep my Starbucks purchases strategic, really making them count rather than turning them into a daily habit. Caffeinating at a theme park is certainly one such "must-buy" situation—Starbucks brews its coffee strong, and a day at the park presents at least 12 hours of nonstop activity to fuel up for. But the Disney Food Blog recently warned that buying Starbucks at Disney World isn't always worth it. Why? Because you can't redeem your Rewards Stars for freebies within the Disney parks.
Why Disney's Starbucks locations don't let you redeem Stars
As you probably already know, not all Starbucks locations you visit are actually Starbucks in the strictest sense—and as such, they don't handle loyalty program transactions quite the same way, either. Case in point: You can't place mobile orders for pickup at the Starbucks locations inside Target stores, since those are licensed Starbucks locations rather than company-operated ones.
The same is true for the Starbucks cafes located inside Disney World. There are four such locations, one in each Disney park: Magic Kingdom, Animal Kingdom, Hollywood Studios, and EPCOT. None of these locations allow mobile ordering, and while Starbucks Rewards customers can earn Stars on purchases at these locations by scanning the app at the register, no Stars can be redeemed here for free upgrades, beverages, or treats. If you want that Frappuccino, you're stuck waiting in Disney-length lines and paying Disney prices.
One helpful Reddit user explains that licensed stores don't offer the same benefits because, thanks to the way the licensing deal works, they'd be the ones footing the bill for any freebies redeemed with Rewards Stars, not Starbucks itself. Or, as the commenter so elegantly put it, "the licensee doesnt want to give away free stuff lol."
Starbucks Rewards have gotten worse
None of this is quite as big of a deal as it was a month ago, however, because my guess is that fewer people are getting Starbucks freebies just about anywhere these days. Accruing enough Stars to redeem for rewards recently became way more difficult: Beginning February 13, the coffee chain jacked up the number of Stars required to unlock each reward.
Whereas 50 Stars used to guarantee a free hot coffee, it now takes 100 Stars to earn one, meaning Rewards members have to spend twice as much money to qualify for freebies. And while 25 Stars used to net the customer a free espresso shot or flavor syrup, that upgrade option appears to have entirely disappeared within the new rewards structure.
The best way to order Starbucks at Disney World
If you don't want to sip on Starbucks you paid full price for, there is hope: Reddit users have pointed out that traditional gift cards work in the Disney World Starbucks locations, even if Rewards don't. There's a good chance that many of you have some of those hanging around, and even if they only have a little bit of value left in them, anything is better than paying full price.
Disney World also has two Starbucks locations in Disney Springs, the mall-ish area just outside the official parks where visitors go for dining, shopping, and entertainment. These are both company-owned Starbucks locations, so not only will they allow you to redeem your Stars for free coffee (if you have enough accrued), they also allow for mobile ordering, which lets you skip the line—important for anyone who either wants to avoid a line full of antsy children or who has said antsy children themselves.