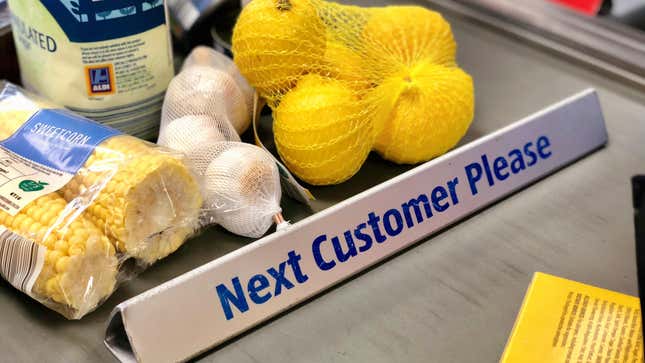 If you've ever spent time scrolling the comments section of any social media post that touches on the generational divide between millennials and Gen Z, you are probably aware that there are differences in the way the two age groups eat, drink, and spend their money. And now, a new study has found yet another sticking point between the generations: online grocery shopping.
How To Dispose Of Cooking Grease The Easy Way After Frying
If you think you know how everyone's buying their avocado toast supplies, you might be surprised to learn that even though millennials and Gen Z are the two demographics most likely to be online at any given time, their adoption of online grocery shopping remains starkly divided. And no, it's not the younger ones turning to the tech-savvy solution.
Online grocery shopping increased exponentially during the COVID-19 pandemic, but even since restrictions have fallen away many of us have become converts, especially for curbside pickup. According to a new study from PYMNTS, however, while millennials continue to increasingly fill their online grocery carts, Gen Z has been ditching the apps in favor of in-person shopping. It turns out that just because someone's younger doesn't mean they're always living 100% in the cloud.
The convenience of online shopping
Unsurprisingly, the difference in grocery shopping behavior between generations all comes down to convenience. It's just that the notion of "convenience" means different things to people of different age groups.
Millennials—that is, anyone born between 1981 and 1996 according to Pew Research—are increasingly leaning into online grocery shopping. In the study titled "Changes in Grocery Shopping Habits and Perception" that focused on 2,500 U.S. consumers, PYMNTS found that people between the ages of 26 and 42 have increased their online grocery spending 10% year-over-year, and the increase is as high as 15% for so-called bridge millennials, or those born between 1980 and 1989.
Perhaps this isn't too much of a surprise, as shoppers in this age bracket are often juggling young families with higher-level work positions (more money, but less time). Pre-ordering groceries for delivery, and especially for curbside pickup, which is the fastest growing segment of online grocery shopping, eliminates time spent pushing a shopping cart. If you're grocery shopping for a family of four or five, and a lot of the same stuff goes in the cart every week, online ordering makes a lot of sense.
Gen Z, on the other hand, has different priorities in the supermarket. For shoppers born between 1997 and 2012, the study found that within the same time period, this generation's digital engagement decreased by 10%. Of the Gen Zs that do shop online, 45% cited convenience as the most important reason for shifting away from in-person shopping, as opposed to other reasons like finding more bargain prices online—a key motivator for Gen X and Baby Boomers.
Gen Z may very well change their shopping habits as they age, or as technology evolves. Statistically, though, many people in this age group simply don't have live-in partners and/or children, and if you're only shopping for yourself, in-person shopping is easier. There's not a lot to buy, and you don't have to decide on any preset delivery or pickup times. Though they might spend a huge chunk of the day on their phones, Gen Z's embrace of physical grocery stores makes its own kind of sense.
Online grocery shopping has evolved rapidly since 2020, so it stands to reason that Gen Z, the generation most likely to stare at the phone while they eat, will come back to these platforms if and when their socioeconomic circumstances change. After all, grocery shopping is a chore we all have to endure, and the most convenient method will always win. That is, until we can make our kids do it for us.