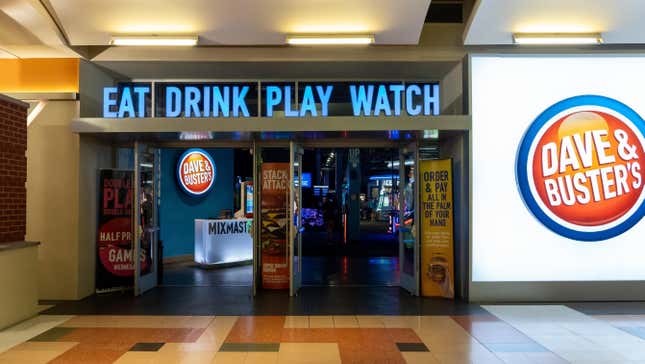 If places like Chuck E. Cheese taught me anything, it's that food and entertainment are a winning combo, no matter how old you are (plus you can never have enough tokens). This sentiment seems to have been similarly ingrained in Gen Z, as they are the driving force behind an emerging dining trend with an unfortunate name: eatertainment.
All the Best Finds at the Sweets & Snacks Expo
As Nation's Restaurant News explains, although the pandemic dealt a major blow to eatertainment concepts, people didn't leave them behind in a post-vaccination world. Far from it: consumers are now thirstier than ever for fun social outings that include the whole package: food, drinks, and activities. NRN cites a recent survey that found more than 70% of Gen Z (a demographic of consumers roughly ages 11 to 26) wants a personalized experience that includes digital components.
"We're in a moment where Gen Z is putting its stamp on this category and we're trying to forecast that the same way we were doing with millennials in 2010," said Robert Thompson, the former CEO of Punch Bowl Social, a major eatertainment venue with multiple locations. "From their perspective, things like design-forward, scratch cooking — that's baseline. There's a new baseline: They want self-service and technology. They don't want to flag down a waiter to get what they want. We're in the middle of a new iteration of this category."
For Gen Z and the food influencers within that generation, eatertainment businesses must provide the most social-media-friendly atmosphere possible. From the food to the decor, everything needs to be Instagram-worthy, not far off from the Museum of Ice Cream in terms of novelty. Puttshack, a tech-enhanced mini golf experience, is a perfect example of this design aesthetic. The company's CMO, Susan Walmesley, told NRN that mini-putt courses featuring life-size beer pong cups and air hockey are used to attract younger customers and encourage them to share the experience on social media.
The first time I went to a Dave & Buster's was in high school, and I remember being annoyed that a curfew was placed on those below the legal drinking age. You're telling me that I can't stick around and spend my (mother's) hard-earned money to play a supersized version of Fruit Ninja (which I also have on my cell phone (which my mom pays for))? As soon as I'm old enough, I remember thinking, I can't wait to order cocktails and swipe this gaming card as much as I want.
Living in Chicago and now being of legal drinking age, I've come to realize that Dave & Buster's was really just the tip of the eatertainment iceberg. Topgolf, Punch Bowl Social, Puttshack, and a number of independent video game bar options abound in the Chicagoland area alone, to say nothing of the rise of VR lounges, axe-throwing bars, and WhirlyBall. The initial draw of each of these options are the activities, but it's the food and drinks that keep people around to continue spending money on the experiences.
Despite challenges over the years, the eatertainment industry has not only dealt with the ebbs and flows of consumer demand, but now looks to be positioning itself for a new era. Before, the focus of this industry leaned more on the entertainment side, with convenient but forgettable bar menus supplying the bare minimum of sustenance. Now, shifting consumer tastes and demands are creating a better balance between quality food and unique games.
Puttshack, for example, offers menu items like wood-fired Thai octopus and Mediterranean lamb skewers, while Punch Bowl Social serves housemade naan and cocoa-dusted carnitas. Around half of Puttshack's revenue comes from food and beverage sales, and Thompson noted that during his time as CEO, Punch Bowl Social generated a whopping 89% of its sales from food and beverage.
Dave & Buster's, too, has announced its intentions to shift focus to adults aged 21 to 39, a range that includes both Gen Z and millennials. The company plans to integrate food and beverage, tech, and "design and layout" improvements into its revitalization.
Topgolf, Puttshack, and Punch Bowl all plan to grow their number of locations in the coming years, and Camp Pickle, a pickleball-focused eatertainment concept, will soon join their ranks. It might sound strange that all these options for a pricey night out might arise during a time of inflation and economic uncertainty—but it makes sense, in a way. Eatertainment costs a lot less than a vacation, yet it still lets you eat, drink, play, and post vibrant and enviable photo dumps to Instagram.