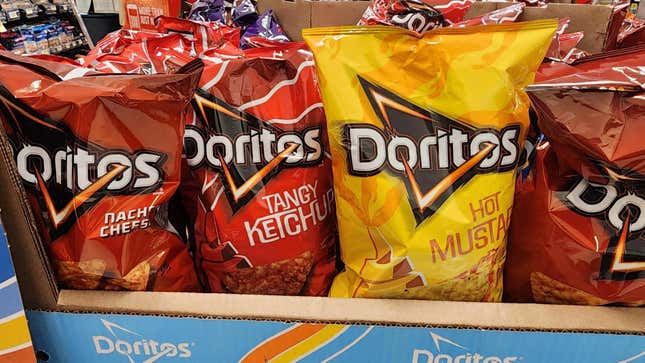 Last summer, Doritos released two new condiment-inspired chip flavors, Tangy Ketchup and Hot Mustard, as a fun snack option to enjoy at backyard barbecues. Seeing their bright red and yellow packaging on the grocery shelf, I myself felt drawn to these two classic flavors. They're unicorns in the snacking space; you simply don't see ketchup and mustard flavored chips at mainstream retail stores (at least not in this country). This year, the limited-edition Doritos are back through July—but are they really a better choice for summer snacking than, say, Tapatío Doritos or Spicy Sweet Chili Doritos? Do the mustard and ketchup flavors actually work in this context? I tasted both to find out, and it turns out only one of these bags is worth buying.

How To Dispose Of Cooking Grease The Easy Way After Frying
What do Tangy Ketchup Doritos taste like?
If you know me, you know I'm a champion for ketchup chips. While Canada embraces their sweet, tangy, tomato-y flavor, the United States just hasn't fully gotten on board. So while I'm thrilled by the idea of ketchup chips being sold by our national darling, Doritos, these chips just don't really work. And it's quite simple as to why: A corn tortilla chip is not the best vehicle for ketchup flavor.
Ketchup requires potato as a partner; it's why you don't see ketchup being served in a little ramekin alongside guacamole and salsa. Corn chips require spice and acid, not smooth sweetness. With these Doritos, the ketchup flavor just feels bland, one-note, and more than a little odd. Doritos work best when there's heat. Thankfully, Hot Mustard is here to save the day.
What do Hot Mustard Doritos taste like?
Great. Awesome. Inspiring. Hot Mustard Doritos have a flavor akin to Chinese hot mustard, not the mildly tangy, toned-down yellow mustard we put on hot dogs. In fact, the flavor here is more in line with that of brown mustard—it's spicy, a little dry, and packs a pleasant bitterness. Though it's not totally in line with the tart, vinegary experience most people associate with condiment mustard, it's still a hit. These chips drive home my point that Doritos fail when they lack spice.
Hot Mustard Doritos might very well be your only chance to try some widely available mustard flavored chips, because it's just not a prevalent flavor profile. Sure, there's a lot of honey mustard and honey Dijon out there in the snack landscape—Gardetto's does this deli-style mustard flavor, and Herr's does these extra bold mustard flavored Sandwi-Chips—but that's kind of it. There's room for so much more mustard, and through July, Doritos is treating us to an additional option.