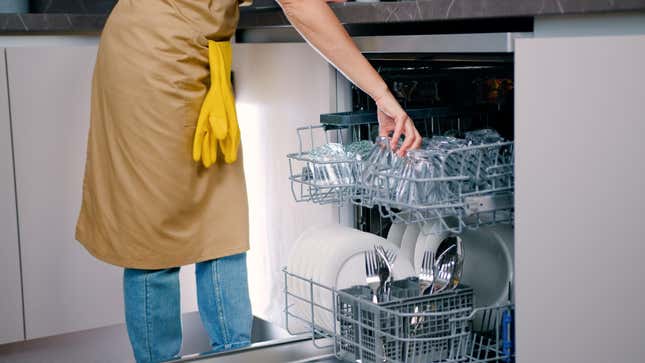 The age-old couples argument about how to load a dishwasher properly seems doomed to live on for eternity. Are you a monster and load large plates on the top rack? Do you force bowls onto the bottom rack at a weird angle next to platters? Philosophically, if the dirty dishes end up clean, does it really matter how they got that way?

How To Dispose Of Cooking Grease The Easy Way After Frying
The Verge reports that home appliance manufacturer Bosch has developed new dishwasher technology to deliver high-powered cleaning to the dirtiest of dishes—meaning that any debate about dishwasher loading techniques might soon be rendered moot. But like any convenience, there's a catch.
Bosch's new dishwasher technology, explained
The new 800 and Benchmark Series dishwashers divide the bottom rack into four sectors, and you can indicate which quadrant contains the dirtiest dishes. The new technology centers on a spraying component called the PowerControl spray arm, which targets the specified quadrant with extra cleaning power.
It's not automatic, though, meaning the dishwasher won't be able to sense where the dirtiest dishes lie; instead, you have to manually indicate which section is the dirtiest before running the cleaning cycle. And therein lies a second catch: You indicate this by using the Bosch Home Connect app on your phone. It always comes back to our damn phones, doesn't it?
I'm down with certain apps that help out in the kitchen (like my Meater wireless thermometer), but clogging up my phone with yet another app just to wash the dishes seems like a bit much. Like, am I really going to remember which section of the bottom rack has the most crusty bits on it while I'm getting ready for bed or when away I'm at the office? I'm sure there are a few technophiles who would find this fun for a few minutes, but its usefulness feels limited at best.
Of course, if you have enough money, someday you might be able to buy a robot that loads the dishwasher for you. And if you have beef with the way the robot did it, well, good luck arguing with it. If your budget leaves you stuck with your current dishwasher for the time being, you can always scroll through TikTok all day for questionable dishwasher hacks to make the job easier.