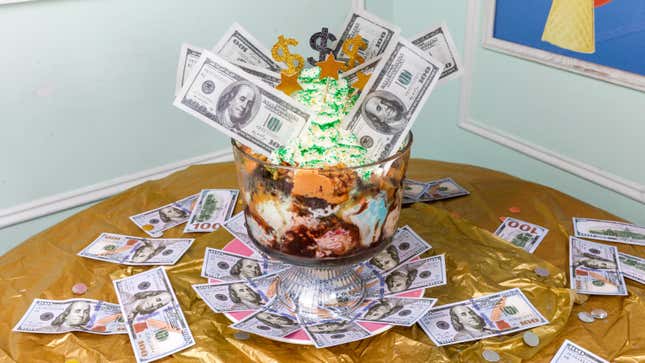 We've tasted our fair share of bizarre ice cream flavors, but on National Ice Cream Day, we appreciate the chance to honor the classics. Whether you like it in a cup or a cone, with sprinkles or with a drizzle of hot fudge, the best day to order some is on Sunday, July 16, when scoops at several major chains will be discounted or given away for free.

How To Dispose Of Cooking Grease The Easy Way After Frying
Here are some brands doling out free frozen treats, or at least offering a good deal:
Carvel: Only on National Ice Cream Day, Carvel is offering $5 off any order of $25 or more made via its website or via DoorDash, Grubhub, or Uber Eats. The ice cream chain has 331 locations throughout the country, so check if there's one near you.
Dairy Queen: This national ice cream chain will be offering a deal via its app. It's not yet specified what the exact deal will be, but we have a feeling it involves ice cream. Don't ask us why.
Dippin' Dots: During a two-hour window on July 16, participating Dippin' Dots locations will be giving away free mini cups to customers. The two-hour window of free ice cream will vary by location, so check with your local Dippin' Dots.
Marble Slab Creamery: In addition to being National Ice Cream Day, the entire month of July is actually National Ice Cream Month. To celebrate both occasions, Marble Slab Creamery has two deals. Throughout the month, the brand's rewards members will receive $5 off an 8" or larger ice cream cake (a one-time-only deal). On July 16, loyalty members also get one free Small Ice Cream.
Museum of Ice Cream: Though this ice-cream-themed attraction has a somewhat divisive reputation, it is a destination for ice cream lovers, so it warrants inclusion here. With locations in New York, Chicago, Austin, and Singapore, the Museum of Ice Cream is set to give out "more than 20,000 scoops of ice cream" at events at these locations on July 16. The free ice cream offerings include Dove ice cream, Friendly's ice cream, and Ida's Artisan Ice Cream.
Serendipity3: For the ice cream lover with deep pockets and a deeper stomach, Serendipity3 is offering the All About the Benjamins $100 Sundae. The sundae (which, yes, costs $100) features 12 scoops of ice cream in nine flavors: vanilla, chocolate, strawberry, butter pecan, birthday cake, cookies & cream, mint chocolate chip, chocolate peanut butter, and chocolate chip cookie dough. Served in a "100-oz." goblet, the massive sundae is covered with hot fudge, peanut butter topping, mini chocolate chips, peanut butter chips, caramel sauce, maple walnut topping, crushed Oreos, a cloud of green glitter whipped cream, and edible $100 bills. We'd expect no less from the cafe that brought us the world's most expensive grilled cheese.
July 16 falls on a Sunday this year, which means that many of you will have the entire day free to hop from ice cream parlor to ice cream parlor, scooping up all the best deals. We hope you take advantage, because these days, cheap food is hard to come by.