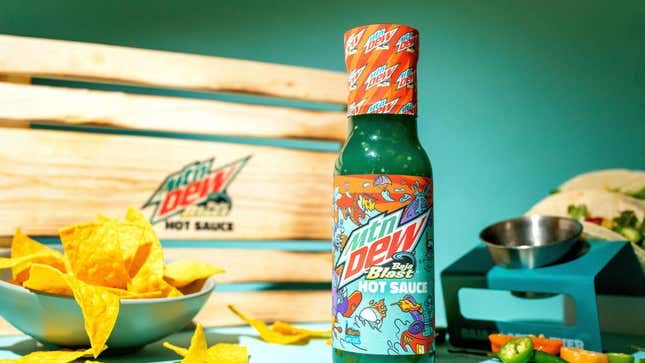 Back in 2020, when we were all isolated in our homes and just wanted to feel something, MTN DEW was hard at work creating an elixir to help us do just that. Collaborating with NBA player Joel Embiid and specialty hot sauce shop iBurn, the soda brand released its first soda-inspired hot sauce, which combined the sweet, citrusy taste of MTN DEW with the hot, hot heat of habanero pepper. Then, MTN DEW somewhat reverse engineered the soda-flavored hot sauce and brought us spicy soda with the release of MTN DEW Flamin' Hot, inspired by the Flamin' Hot line of Frito-Lay snacks. Now, MTN DEW is combining sweet with heat once again, this time inspired by its beloved Taco Bell–exclusive flavor, Baja Blast.
MTN DEW Baja Blast Hot Sauce Is a Gorgeous Oddity
MTN DEW announced the Baja Blast hot sauce on Instagram on January 19. But much like the soda variety that inspired the sauce, you won't be able to buy it in stores. And it doesn't look like you'll be able to get it at Taco Bell, either. The only way to get your hands on this spicy new concoction is to win one of the 750 bottles available in this limited batch.
Per the contest's official rules, each bottle is valued at $50—so if you win, it might be more lucrative to leave your bottle unopened for a few years and try to sell it on eBay. This bottle of the Joel Embiid hot sauce from 2020 is going for $200 right now. If that's too much, you can be the first to bid on this bottle, starting at $99.
Entering the contest is easy. You just go to the contest page on the MTN DEW website and fill out your personal information. Then you wait with bated breath until February 9, when the drawing will take place.
The concept of a soda-flavored hot sauce may sound iffy at first, but sweet and hot make for a delicious flavor combination. Have you ever dipped a Popeyes biscuit in some Popeyes Sweet Heat Sauce? Unbelievable. Have you ever tasted chili-flavored chocolate? So good.
I entered the contest, and I really hope I win. I put hot sauce on everything, and some of my favorite hot sauces have sweet citrusy twists. For Christmas, my dad got me a bottle of Mama Juana from Faiya, a small hot sauce maker in Philadelphia, and the sauce has quickly become one of my faves. It's habanero-based with hints of sweetness from tamarind, mango, and maple syrup. I'm also a big fan of Faiya's Sweet Summer Heat, a jalapeno-based sauce with lime and pineapple.
Should I not win a bottle of this special MTN DEW hot sauce, I might just have to make my own. I'm thinking Taco Bell's limey Diablo Sauce mixed with a few drops of Baja Blast could do the trick.