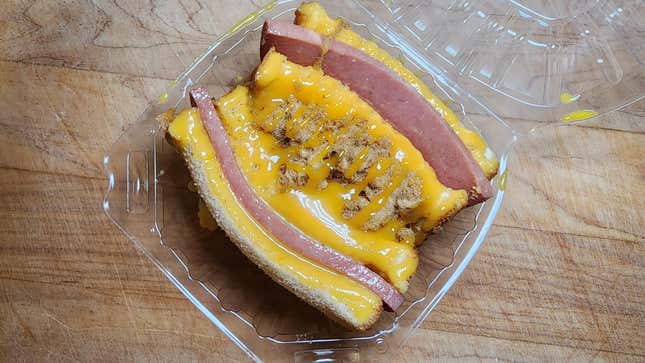 About a month ago, I was whistling along Hollywood Boulevard after a few gin and tonics when I spotted a sandwich so eye-catching that I felt compelled to stop and inspect it. Maybe it was the warm and fuzzy feeling from the gin, but upon a closer look, the sandwich's mere appearance inspired laughter and a joyful curiosity. It's called a moo yong sandwich, and it's served at Radna Silom, a Thai street vendor specializing in noodles that pops up outside of Silom Supermarket in Los Angeles. Bright, gooey, and bursting with charisma, this sandwich is mere minutes away from going viral.
How To Dispose Of Cooking Grease The Easy Way After Frying
What is the moo yong sandwich?
Moo yong is the Thai name for pork floss, which is pork shoulder that's been cooked with soy sauce, shredded, and dried; the result is a light and fluffy product typically served with congee. So while this simply translates to "pork floss sandwich," that doesn't begin to tell the whole story of this eccentric and affordable luxury. Why does it look so gooey? Is that bologna in there? Is it going to kill me? Let me answer all of those questions.
The moo yong sandwich served at Radna Silom is made with three pieces of Wonder Bread–esque white bread, the soft, squishy, super-sweet kind that your fingertips leave divots in wherever you hold it. Between those slices of bread are thick slabs of cheap, Fud-style deli bologna; what I believe to be a Dijonnaise (I detected a tad of mustard in the mayo); sweet custard made from egg yolks; and a generous helping of fluffy pork floss, which adheres to the custard like confetti submerged in glue.
It's bombastic and glutinous, yet inexpensive—the price comes in at just under $7. Though its combination of flavors and textures reads totally foreign to our American sandwich sensibilities, it's exactly the type of chaos food we love in modern culinary culture. Simply put, the moo yong sandwich is an off-center meal the internet is primed to go nuts for.
Also of note is that the sandwich appears to have a few different variations. I messaged Bill Addison, restaurant critic at the Los Angeles Times, at 7:30 in the morning to talk about pork floss, and he said he had not encountered this custardy style of moo yong sandwich in Los Angeles. However, he has eaten something like it in Chicago during his years wandering around and writing for Eater.

A few years back, Jim Behymer of the Sandwich Tribunal actually reviewed a moo yong sandwich he found in Chicago (maybe the same one Bill ate?). It had an orangey flavor, and its bologna was sliced thin. From the photos, it looks like it's made with condensed milk and not the viscous custard found at Radna Silom. Thrillist, meanwhile, mentions a version that uses chili oil and scallions.
The woman who takes my order at Radna Silom calls it a "Thai style sandwich" every time I order it. There is, admittedly, a whole lot more happening with this thing than pork floss. It's more of a sweet custard and bologna sandwich; the pork floss plays in the background, so calling it moo yong might feel inaccurate.
Like all legendary late-night food, this sandwich shares attributes with breakfast. It approximates ham and eggs on toast, the type of thing one could eat indulgently on Saturday morning or drunkenly on Saturday night (or both). At Silom Supermarket (the grocery store behind Radna), I poked around at lunchtime, holding up a photo of the moo yong sando.
"Have you seen this sandwich?" I asked, like it was my missing daughter.
Eventually, the clerk confided that the moo yong sandwich is more of a "niche" thing in Thailand, and that it's not omnipresent outside of night markets. I asked if the sandwich is ever eaten for breakfast.
"No," the clerk replied. "Breakfast in Thailand is more porridge and rice, not a sandwich."
Though Silom Supermarket has plenty of ready-to-eat food available on the shelves, the moo yong sandwich is made exclusively in the evening.
What does a moo yong sandwich taste like?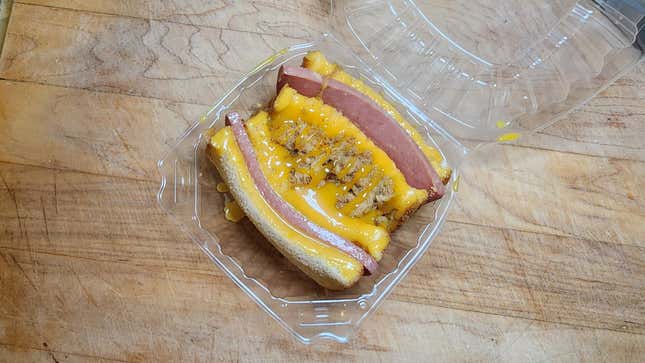 For all its loud ingredients, the overall flavor is basic, like something made from a bunch of things gathered from the kitchen cupboard. Still, it's an oddly delicate balance: There's sweetness from the Wonder Bread and the custard and a ton of savory flavor from the bologna and pork floss, but the tangy Dijonnaise peeks through just enough to balance out both.
This entire sandwich is also… squishy. It's insanely cohesive and practically welded together with custard, which fills in the cracks between the white bread like plaster. Without that sweet, eggy custard, I feel the sandwich itself would be lacking. The custard binds all of these comforting ingredients and transforms the whole mess into an after school/brunch mashup. It's like taking the time to make hollandaise for your Boar's Head ham sandwich at home. Who would do that?
It's really heavy. I'm alive, but I'm also feeling survivor's guilt after eating something so dastardly. I'm not totally sure what to make of the moo yong sandwich, except that if this had been the type of thing I ate at seven years old, I can guarantee I'd be craving one right now. It's convenience comfort food every step of the way.
The pork floss sandwich feels like the type of arresting sight you'd see after spending too much time on food TikTok. What? Why? Who? All questions you have when you reach the weird corners of the internet serving up food hacks, chaos cooking, and trolling. I'm surprised the moo yong sandwich hasn't made more noise online and in food literature. A dessert bologna sandwich surely ought to pierce through every layer of the internet with ease. I can see the video now: "YOU MUST TRY THIS SWEET BOLOGNA SANDWICH," reads the title, with a view count of 3 million and rising.
The problem is that you just don't find the moo yong sandwich very often. I haven't seen them sold at any Thai restaurants in my neighborhood—just Radna, which operates outside.
I hope more people become captivated by the moo yong sandwich, because right now I feel pretty alone. Maybe those two gin and tonics gave me enough courage to take the leap, but I'm pretty simple: I see something eye-catching, I consume it. That's just how the internet works.