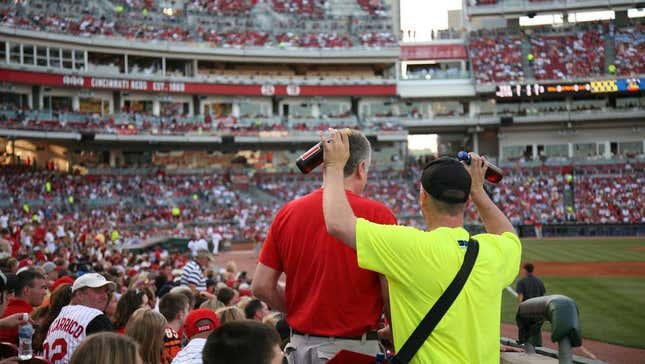 Baseball's seventh-inning stretch is usually everyone's signal to not only stand up and sing "Take Me Out to the Ball Game" but also to head over to the concession stands for one last drink (and some hot dogs, of course). However, thanks to new Major League Baseball rules impacting the 2023 baseball season, last call at some stadiums is getting pushed later in the game than ever before, the Associated Press reports.
All the Best Finds at the Sweets & Snacks Expo
At most MLB parks, vendors cut off alcohol sales for the final two innings of the game. This is not an official MLB rule; the organization doesn't regulate when teams or ballparks sell alcohol. However, it has become the norm at parks across the country because it decreases the chance that spectators will leave the game boozed up and looking to brawl (or, worse, drive home). So why change things now?

Although the MLB doesn't control any teams' alcohol sales, it does control the pitch clock, newly instated in 2023. The clock regulates time between pitches, limiting downtime to 15, 20, or 30 seconds, depending on current gameplay. This has led to significantly shorter baseball games: The Associated Press reports that in the first one and a half weeks of this MLB season, game times were reduced by an average of 31 minutes.
Speeding up the pace might make for a more exciting game, but it also shaves off a half hour of sales for alcohol vendors. As a result, the Arizona Diamondbacks, Milwaukee Brewers, Minnesota Twins, and Texas Rangers have all have extended their parks' alcohol sales into the eighth inning, giving spectators a chance to drink as much as they normally would. Other teams are sticking to the seventh-inning cutoff, though some have indicated they're not opposed to making changes.
The pitch clock was piloted in the minor leagues last season, and Kevin Mahoney, general manager for the Class A Brooklyn Cyclones, told the AP that concession sales were not affected at all by the shortened games. This means that the extension of beer sales to the eighth inning might actually be an unnecessary move—but perhaps it's one that will thin out the crowds on the concourse before last call. Maybe. My advice is to get your drinks early regardless and focus on the food after that. Oh, and the game, too, I guess.