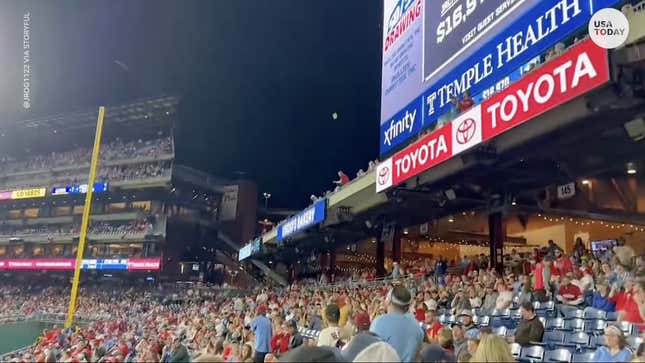 We love our dollar deals as much as anyone else, but sometimes they can quite literally get out of hand. Philadelphia's local ABC affiliate reports that $1 hot dog night at Citizen Bank Park, home of the Philadelphia Phillies, turned into a shitshow this week when the steep discount prompted hot-dog-chucking mayhem.
All the Best Finds at the Sweets & Snacks Expo
The whole thing started when a kid at the park challenged himself to a personal hot dog eating contest. Attendee Robert Kristovich told 6ABC:
It started in our section with them having a hot dog eating contest. This kid was eating a bunch of hot dogs, he had 13 and people were trying to get him, people were like, 'eat another one, eat another one.' So they started throwing hot dogs to him. The guard came over and started yelling, and then it just went nuts."
All it takes is one spark to ignite a forest fire, or in this case, one kid with impressive skill and dreams of being the next Joey Chestnut. Soon enough, there was a hailstorm of hot dogs being tossed. If these dollar dogs were flying through the air around my seat, I probably would have held onto a couple, since it'd save me a long wait in line (and would pair well with my beer). But it seems the good citizens of Philadelphia were more interested in chaos than food.
Of course, some asshole had to ruin the fun, and Kristovich explained to 6ABC that things escalated quickly from there.
"They were throwing people out like crazy because it progressed, as things do, to water bottles, so the water bottles started coming from the upper deck," he said. "I was there with my boys and we got out." Some fans were subsequently ejected from the baseball game.
Tossing food around at baseball games is nothing new. April 13 marked the 45th anniversary of the Reggie! candy bar incident at Yankee Stadium, when fans pelted right fielder Reggie Jackson with a massive amount of his eponymous candy bars after he hit a three-run homer. This was obviously more of a celebration than an attack, but the effect was largely the same—the game was delayed as grounds crews cleaned up all that wasted candy.
The bar was indeed named after Jackson. Manufactured by the same company that produces Baby Ruth bars (Curtiss Candy Co.), it had chocolate and peanuts surrounding a caramel center. The Reggie! bar was the giveaway at that night's game, so it became the obvious option when fans were moved to celebrate Jackson's play.
Jackson took it all in stride, saying, "I didn't want to get hit in the head, but I knew it was a gesture of appreciation."
The intersection of cheap food and sporting events made for a similarly perfect storm at this week's Phillies game. Unlike Jackson, however, the Phillies were unhappy with the situation, telling 6ABC:
There were several people who were ejected from our game last night as a result of their unruly behavior, a behavior which the Phillies do not condone. In addition, our staff took the appropriate action to assist any fans who voiced complaints. Unfortunately, the small minority of people involved in this situation put our regular fan base in a negative light.
Thankfully, no injuries were reported. Hot dogs are pretty soft and pillowy, which presumably kept things from growing dangerous. Just imagine if it were dollar nacho night.