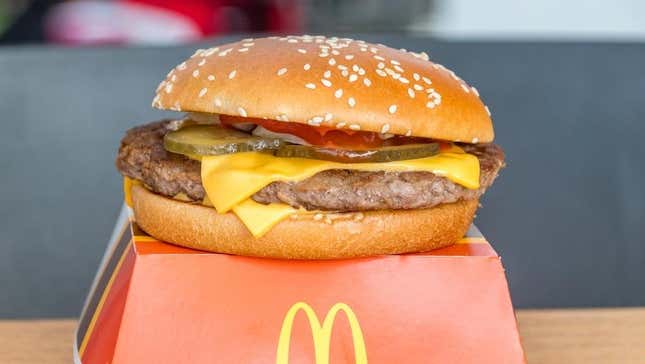 Not only were this year's deals on National Cheeseburger Day both beefy and cheesy, they were also apparently too much to handle, Nation's Restaurant News reports. Two of the largest fast food chains in America that ran National Cheeseburger Day promotions had their mobile apps crash due to the high volume of users.
How To Dispose Of Cooking Grease The Easy Way After Frying
National Cheeseburger Day was on Monday, September 18, and to celebrate the occasion both McDonald's and Wendy's sold cheeseburgers to customers at a steep discount. At McDonald's, a Double Cheeseburger cost just 50 cents; to redeem the deal, customers had to use the McDonald's mobile app and were limited to one discounted sandwich per customer. Wendy's, meanwhile, offered up a Jr. Bacon Cheeseburger for $0.01 with any purchase. The offer was only redeemable via the Wendy's app or website, and was not valid for delivery orders placed outside of the Wendy's app or website.
Per Downdetector, a website that tracks when apps or websites experience outages, the McDonald's app crashed around noon on Monday, with more than 800 reports of an outage. Comments on the crash included many like this one: "Trying to cash in on the $0.50 cheeseburgers and there's no sign of life in the app, for Android."
"Wasn't loading any reward history/deals," another user commented on Downdetector. "Uninstalled/re-installed. Logged in and ALL account history/points/rewards are gone!!! I'm having to start all over?!? This better just be a glitch!"
For Wendy's, the app crash was reported both on the brand's social media and on UpdownRadar, another website that tracks outages. To kick off its National Cheeseburger Day celebration, Wendy's initially tweeted, "Today is the day that is good and nothing bad happens. Yup, National Cheeseburger day. Celebrate with a 1 cent jbc with any purchase in the app." Unfortunately, beneath that tweet came hundreds of comments with many complaining about the app not allowing them to take advantage of the deal.
"It would be nice if we could actually order on the app because your system just isn't working," wrote one user on X (formerly Twitter). "The local franchise won't sell without us ordering on the app but we can't use the app so we can't order."
Fortunately, the Wendy's deal continues through September 22. So even if technical difficulties prevented you from celebrating National Cheeseburger Day on the actual holiday, you can still enjoy a Jr. Bacon Cheeseburger for a penny for the next few days—assuming the app can handle the demand.