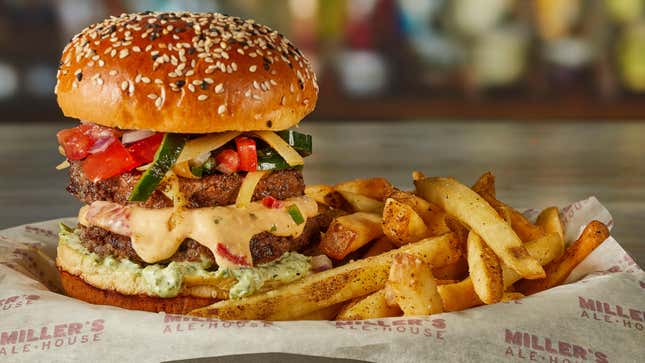 Another national food holiday approaches, and this one is sure to be juicy, cheesy, and satisfying. National Cheeseburger Day falls on Monday, September 18, and since many are likely putting their own grills away for the season, these chains have you covered. Here's where to get the best deals on a cheeseburger to celebrate this melty, hunger-satisfying "holiday."
How To Dispose Of Cooking Grease The Easy Way After Frying
Burger King
Asserting itself as the crown ruler of the fast food realm, Burger King is celebrating National Cheeseburger Day with multiple offers that stretch beyond September 18. On the actual holiday, the chain will offer a free cheeseburger to Royal Perks customers who make any purchase of $1 or more. For the week following National Cheeseburger Day, Burger King will have a different deal each day for Royal Perks members. Some of these deals include a free Whopper Jr with any $1 purchase on September 19 and BOGO Whoppers on September 21.
Miller's Ale House
The sports bar and restaurant chain will offer two cheeseburger specials in honor of National Cheeseburger Day: Customers can get a classic cheeseburger and fries for a discount price of $9.99, or a Smashed Queso Burger for $13.99 all day on September 18.
Smashburger
Smashburger will also be celebrating National Cheeseburger Day beyond the 18th, offering its classic Singles for $5 from September 18-20. The deal can be redeemed in-store, online, or on the brand's app with the code SMASH23. The offer is good for Classic Singles, Classic Single Turkey Burgers, and Classic Single Black Bean Burgers.
Twin Peaks
Customers can visit one of Twin Peaks' 100-plus locations on National Cheeseburger Day for one of two deals. The restaurant chain will be offering a $10 meal of a cheeseburger, fries, and soda/tea, or a $12 meal of a cheeseburger, fries, and 22-oz. Coors Light or Miller Lite.
Wayback Burgers
Wayback, which has locations in 35 states, has a BOGO offer running on September 18 for National Cheeseburger Day. Whether you order in restaurant, online, or through the app, when you buy one Classic Burger, you'll get one free. This burger features all the standard stuff you'd expect: two beef patties, American cheese, lettuce, tomato, pickles, onions, ketchup, and mustard. Sounds good enough to eat twice.
Wendy's
In celebration of National Cheeseburger Day, Wendy's will be offering a deal that gets you a cheeseburger for just a penny. The chain confirmed to Today that from September 18-22 customers can get a Jr. Bacon Cheeseburger for $0.01 with any purchase. The offer is only redeemable in the Wendy's app or on the website, and is not valid for delivery orders placed outside of the Wendy's app or website.
Whether you nab a BOGO offer, a discount, or a one-penny purchase, getting your hands on a cheeseburger on September 18 will be simple. The more important issue is figuring out how to hide the free burgers from everyone else in your household.