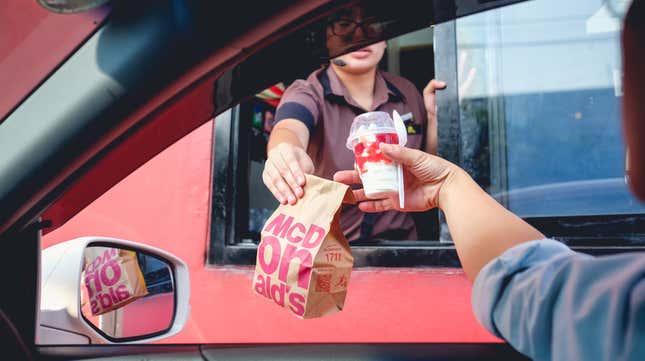 These days, just about every major fast-food player is looking for ways to avoid being left behind. From going national with plant-based burgers to speeding up visits, from taking a page out of the competition's playbook to offering unlimited food and opening hotels, every big chain is chasing the next thing that'll truly distinguish it from its field of rivals.
How To Dispose Of Cooking Grease The Easy Way After Frying
However, at least through the end of 2018, McDonald's continues to reign supreme over all other challengers, old and new alike. The annual QSR 50, a list of the 50 largest fast-food companies in the U.S. by sales, offers an overview of how the biggest "quick-service restaurants" are faring in the U.S. As the 2019 edition indicates, the golden-arched face of American dining is still well ahead of the pack, whether some diners like it or not. Some key takeaways from this year's list:
Not only did McDonald's double the system-wide sales of second-place finisher Starbucks in 2018, but it reportedly outsold Subway (#3), Taco Bell (#4), and Chick-fil-A (#5) combined.
Speaking of Subway, which as you may have heard is going through it right now, the 1,100+ restaurants it closed between 2017 and 2018 are just one of their present woes. Its average sales per store are the second-lowest in the entire top 50, and while the sheer number of Subway locations is likely skewing that figure (there are still 24,798 stores in the U.S., far more than even McDonald's or Starbucks), it appears that the sandwich chain's struggles are not over yet.
As previously reported here and elsewhere, the average single Chick-fil-A location is wildly outselling its contemporaries. When you combine that with the chain's rapid growth, the 2020 listings are going to be very interesting.
Also on the topic of of per-unit averages, Shake Shack (which did not make this year's top 50, likely because of the 136 total locations included in last year's data) has a higher sales average than every other restaurant save for Chick-fil-A. People love their Shackburgers, it would appear.