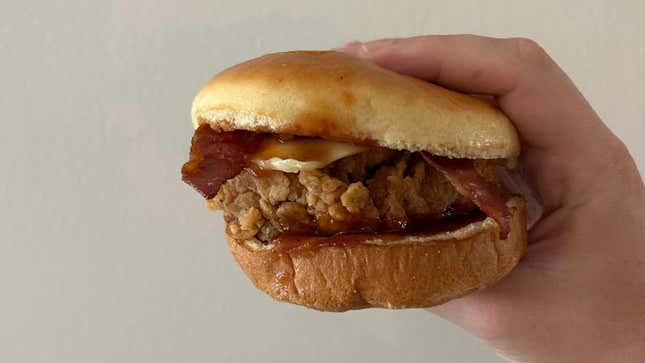 Since 2019, most fast food chains have been trying to keep up with Popeyes' acclaimed (and much imitated) fried chicken, mayo, and pickle sandwich. McDonald's, Burger King, Hardee's, everyone wants in on the action. Takeout staff writer Angela L. Pagán recently offered clear-eyed analysis of the fried chicken sandwich wars that began in the late 2010s: "In the new era, it's not so much about the fried chicken breast itself, but more about what's on top of it, piling on various new layers of flavor." That is exactly what KFC has done here.
How To Dispose Of Cooking Grease The Easy Way After Frying
The Ultimate BBQ Fried Chicken Sandwich, which rolled out on July 3, has been in development for at least a few months. When Takeout staff writer Dennis Lee spent a day at the KFC Test Kitchen in February, the sandwich was being tested in Tampa, Florida. It is, according to its press release, "an Extra Crispy™ 100 percent white meat filet topped with hickory smoked bacon, KFC's signature honey BBQ sauce, crispy fried onions, melted cheese and pickles, all on a premium brioche bun."
I've never had KFC before. I'm a Popeyes lifer—when my stomach tells my brain that it needs fried chicken, my mouth waters in conjunction with seeing that orange logo. What can I say? When it comes to eating so much salt that I get a headache and want to take a nap, I've always gravitated toward Popeyes. I don't know what it is about Colonel Sanders and his proprietary spice blend that has left me uninterested. Too old? Too Christian-coded? He seems strict. Whatever it is, he doesn't move me. I hope Takeout readers don't hold it against me.
But even if you want to punch me in the face for never having tried KFC, you won't hate what I have to say next: The new sandwich is good. I don't know what makes it "ultimate," but I appreciate the title because the sandwich is a big swing. While none of the individual components are pushing any fast-food boundaries, it's a hefty grouping that could easily slide into a lump of mediocrity. Instead, I was happily impressed with every aspect of KFC's new sandwich.
What makes KFC's new chicken sandwich stand out
Let's start with the easiest, best choice that any fast food chain can make: the brioche bun. It goes so well with chicken. It's warm and a bit sweet, just a complete success. If I were a totalitarian leader of a country, my first decree would be that any sandwich maker must consider a brioche bun. If they decide to implement another option after rigorous product testing, I won't mandate its use, but the brioche must be considered.
Bacon is one of the great variables in any sandwich, anywhere. Its texture is its most important asset, but you're playing a game of Russian roulette ordering it on a sandwich. At its worst, it's floppy, unsettlingly soft, and either too thick or too lean. What I mean is that poorly cooked bacon can become a meaningless, or even gross, add-on. But kudos to the KFC employees who made my sandwich—the bacon had a nice crunch and served the sandwich instead of hindering it.
To be fair, there will certainly be Ultimate BBQ Fried Chicken Sandwiches served with limp bacon. This isn't a dunk on KFC, it's simply reality. Even in diners that serve nothing but breakfast 24 hours a day, bacon is sometimes not cooked to peak crispiness. But my experience was a good one, and I hope that's the rule rather than the exception.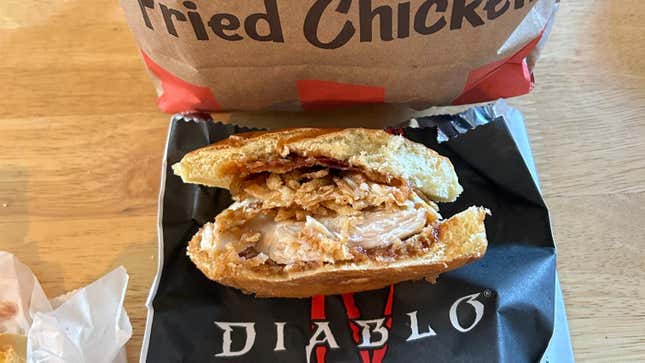 My favorite part of the Ultimate BBQ Fried Chicken Sandwich, however, was the use of crispy fried onions. Why these delightful morsels are not on every sandwich is beyond me. Ever since I was a kid, I've been in an admittedly chaste love affair with crispy fried onions. In my mother's pantry, they were in a red French's tin and I would eat them plain, with my grubby little fingers, like any normal, chubby American child. They will always be strange to me—less of a fried onion (like, say, an onion ring) and more a crispy bit of breading with an onion flavor. Even as a dipshit kid, I understood that these were a reconstitution of the onion gestalt into something new, different and delicious. A great pop of crunch and flavor. My only wish is that there were more of them on my KFC sandwich.
If the fried chicken sandwich is, in 2023, less about the chicken and more about what sits on top of it, then KFC has introduced a worthy competitor in a crowded field. Notably, the chicken itself was good, too! A satisfying bite, no stringy sections. Its toppings, while by no means revolutionary, all work together in a kind of caloric harmony.
Now, whether I go back to KFC to try any other menu items is a different story. I'm not opposed. This sandwich was tasty, and certainly more inspired than its rough draft, which debuted in 2021. Call me newly KFC-curious.