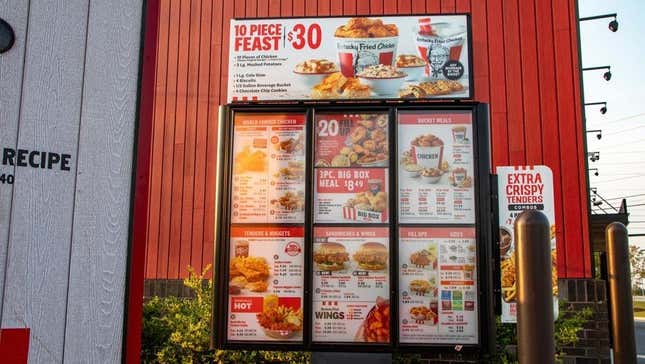 As KFC remains neck and neck with Popeyes in the battle for Americans' hearts, the original fried chicken chain is actively investing in its future. KFC recently announced the addition of fried chicken wraps to its menu starting today, February 6, because "everything tastes better wrapped in a warm flour tortilla!" The item is an attempt by the brand to appeal to a younger demographic—one that more likely either gravitates toward Popeyes chicken sandwiches or finds KFC's focus on family-sized meals less relevant. The chain's chief marketing officer told told Nation's Restaurant News, "I think it's fair to say that our core customer... is older than the average QSR customer … And we need to bring in new audiences and invite new generations of customers to discover KFC."
One particular thing Gen Z is fond of is social responsibility, prioritizing brands that openly commit to sustainability initiatives. CMSWire notes that for Gen Z consumers, "a brand's corporate social responsibility (CSR) statement must be something that the brand lives, rather than just espouses." Well, one KFC franchise in Bakersfield, California has put its money where its mouth is by installing a solar-powered drive-thru.
Nation's Restaurant News explains installing environmentally friendly solar panels wasn't always the restaurant's intent. Initially, the owners of the restaurant group that runs the KFC franchise set out to build a canopy over the drive-thru to protect workers from the sun. But the owners soon realized that, thanks to tax credits on solar panels, they could install a solar-powered canopy and recover the cost within five years. The 72-foot canopy, designed by Integrate Solar, contains 57 solar panels. Although the cost of the panels was not disclosed, the new canopy is expected to save the restaurant $11,000 in energy costs in just its first year, and $400,000 over its lifetime. (That means the panels are estimated to operate for nearly 40 years, much like regular roofing.)
Local news station KGET was present for the canopy's ribbon cutting. While it was a cloudy day to reveal solar panels, nobody was going to rain on this parade: Todd Stewart of Stewart Restaurant Group, owner of the KFC franchise, couldn't stop talking about how "excited" he was to "bring in renewable energy … which we always thought was very hard to tap into." The canopy will also feature fans and misters to cool off employees in the California heat.
KFC isn't the only fast food chain hopping on the solar bandwagon, either. McDonald's has been pledging to cut emissions for years now. In 2019, McDonald's invested in two renewable energy companies. In 2020, it introduced a location in Disney World that ran entirely on solar power. And just last month, the corporation purchased enough solar energy to power its entire supply chain in the U.S. Perhaps McDonald's will even alter its logo and add little solar panels to the peak of each Golden Arch.