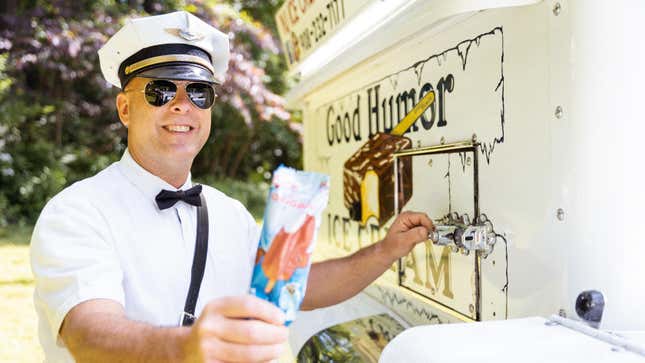 Summer is a time for ice cream, popsicles, and other frozen treats. Remember how exciting it was as a kid to hear the sound of an approaching ice cream truck? As it turns out, keeping a neighborhood ice cream truck on the road is no easy task. That's why the new Keep Summer Rolling campaign, a partnership between Good Humor and automotive company Jiffy Lube, aims to help these mobile businesses avoid breakdowns and stay in optimal ice-cream-serving condition.
How To Dispose Of Cooking Grease The Easy Way After Frying
The struggles of the modern ice cream vendor
Operating costs are up across the board in 2023, and that includes the mobile ice cream business, where supplies like napkins have gone up in price and the cost of the frozen novelties has risen in kind to cover expenses. Beyond that, ice cream trucks are not known for their fuel efficiency; most trucks have two tanks that require diesel gas, which has recently cost as much as $7 a gallon. Nissan has attempted to combat this issue by debuting an electric ice cream truck, but many vendors make use of older, sometimes vintage vehicles. These trucks require constant upkeep and repair, plus frequent upgrades. As a result, some ice cream truck owners replace their trucks every few years.
Other costs include the ice cream, cones, and sprinkles themselves, all of which have gone up in price, sometimes by twice as much as in recent years. Vendor permits are another expenditure, and competition from brick-and-mortar shops, apps, chains, and delivery services narrow down the potential customer pool. It's no wonder that some mobile ice cream vendors have had to increase their prices, forgo repairs, and/or close up shop completely.
Why Jiffy Lube is repairing ice cream trucks
As part of its Keep Summer Rolling campaign, Jiffy Lube and Good Humor are offering qualifying vehicles—in this case, ice cream trucks and pushcarts—a complimentary maintenance voucher that can be redeemed at any participating Jiffy Lube location. However, these vouchers are for $150, and if you've ever had to take your car in for a "simple" repair, you know that $150 won't necessarily cover a major issue. Not only that, but you have to register for the voucher, meaning there's a chance you will not be selected to receive one.
Good Humor's part in this is a multi-year initiative called Neighborhood Joy, which fosters partnerships like this one with Jiffy Lube. Good Humor has created a Vendor Hub for ice cream truck companies across the nation to share resources, tips, and information. The Keep Summer Rolling campaign is also hosting ice cream socials in neighborhoods across the country this season.
Both companies emphasize the desire to preserve summer nostalgia by keeping ice cream trucks operational. While it is also, clearly, partially a public relations push for both companies—as well as a chance to store the consumer data of anyone who registers their vehicle during the promotion—the idea of using ice cream to bring people together is pretty sweet. Better than a lot of promotional campaigns we can name.