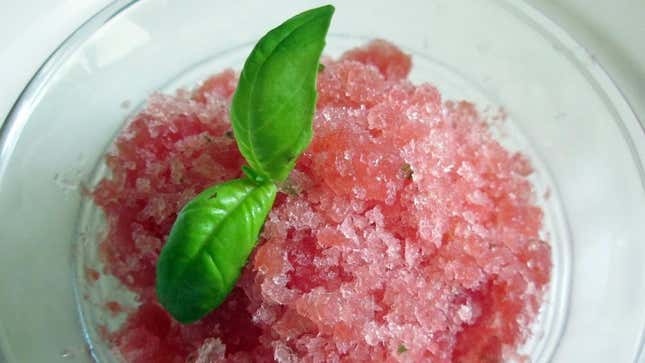 When I dined with a business contact at the famed Four Seasons restaurant, we were visited by the chef, who was a friend of his. The chef sent dishes to our table we hadn't ordered (on the house), one of which was a bright green sorbet that turned out to be basil granita. The combination of bright flavor and icy texture was an eye-opener, and I went home with the recipe. (That one was sized to make a gallon, but this version is pretty close.)

For many cooks who like to garden, basil spells summer. It's an easy herb to grow, whether outside or on a windowsill. Given some sunshine and regular rain, it will take off—so much that you can run out of ideas for using it. But basil is surprisingly versatile, and its many uses aren't necessarily ones you've thought about before.
Basil granita is just one way you can liven up your repertoire. Another is to deploy different types of basil: Many people are most familiar with flat-leafed Genovese basil, but you also might want to deploy shiso, the minty Japanese version, or a slender-leaved Thai basil. Whichever strikes your fancy, consider these uses.