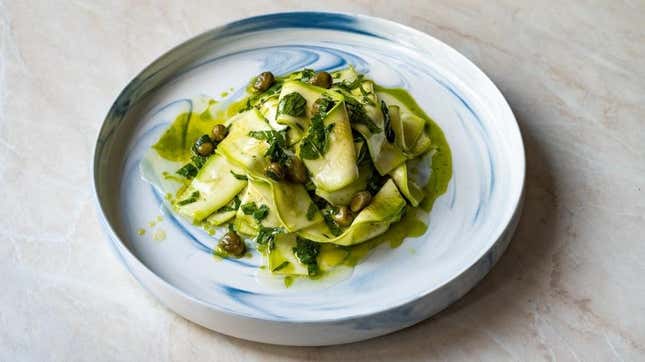 Midwesterners know the old joke: Keep your car doors locked in the summer or you'll find a bushel of zucchini on the front seat. (The same is true of your front porch, back porch, and patio.) Zucchini has gotten a reputation as a boring summer staple—the salad bar cantaloupe of squash. But a new cookbook from Cynthia Graubart has some surprisingly not boring ways to use it, and her methods extend beyond the typical bread, ratatouille, and salads.
Graubart, a James Beard Award winner and television host, turns the spotlight on the beleaguered squash in Zucchini Love: 43 Garden-Fresh Recipes for Salads, Soups, Breads, Lasagnas, Stir-Fries, and More from Storey Publishing. (Amazon named it an Editor's Pick.) When I dove into the recipes, I could see what makes this cookbook stand out: Rather than treat zucchini as a prolific backyard garden veggie that must be off-loaded onto others, Graubart uses it in innovative ways.
"I think because of its mild flavor, most people don't think of it as exciting," Graubart tells The Takeout, "when in fact it's the prolific summer garden vegetable that loves to play with others."
She says zucchini can be paired with corn, tomatoes, and even peaches to create unique dishes. "And it hasn't met a summer herb it doesn't love, mint being the one that makes zucchini such a tasty no-cook and very cooling summer dish," she adds.
Graubart jokes that if you make every recipe in her book, you will have used 75 pounds of zucchini. That might be too much even for the most dedicated cook, but here are some of Graubart's most interesting suggestions for your summer produce. (Best of all, Graubart says you can swap in similarly sized yellow squash if the green version isn't available.)