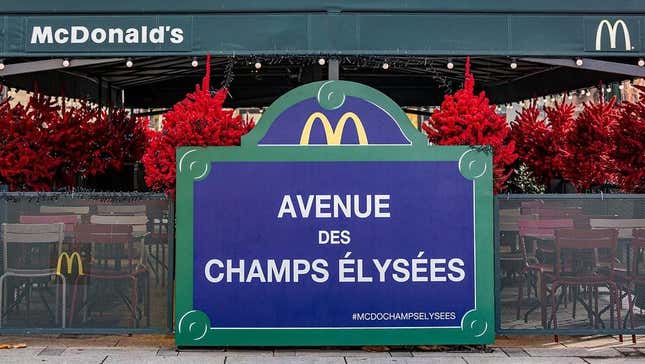 For Americans who have visited France, it's no secret that some French people have an open distaste for American culture. It shouldn't be surprising, then, to hear that McDonald's, an iconic and quintessentially American fast food chain, had trouble winning over the French people when it first arrived on the scene.
McDonald's Shrinks Its Restaurant for the Digital Age
Long before Emily in Paris brought the McBaguette onto the radar of American McDonald's customers, the Golden Arches were not so popular in the land of romance and croissants. McDonald's currently has more than 1,500 locations throughout France, but it had a rocky start in the country, and the company needed to develop a tailored, authentically French strategy to succeed there.
How McDonald's entered the French market
McDonald's first venture into France came all the way back in 1972, and there was some initial success due to the novelty of fast food in the country at the time, Business Insider notes. However, after some legal disputes regarding the licensing and franchising of the McDonald's brand in France, operations were temporarily halted, and the restaurant reopened in 1979. (The website for McDonald's France cites the 1979 opening of its Strasbourg restaurant as the country's "first" location.)
From the late 1980s and throughout the 1990s, McDonald's France was met with strong opposition from locals fighting against globalization and seeking to protect the reputation of the country's cuisine. Outside of one McDonald's location, some residents lit a bonfire to protest the 1992 Blair House Agreement, which made it easier (read: cheaper) for some agricultural products to be imported into France.
But the most news-making incident occurred in 1999, when José Bové, a sheep farmer and activist, along with other farmers, drove a bulldozer through a McDonald's that was in the process of being built.
"Yes we were shocked," Denis Hennequin, who was president and managing director of McDonald's France at the time, said in a 2006 interview. "We are an icon, a symbol. We don't claim to be otherwise… But we went from icon to scapegoat. It was unfair."
McDonald's strategy in France
Rather than impose the chain's Americana branding on the French people—which would only confirm the worst fears of activists and anti-globalizationists—McDonald's learned to take a different approach in the French market.
After being promoted to executive vice president of McDonald's Europe, Hennequin decided to show France why the company deserved to be there by embracing French culture and remodeling the McDonald's brand to fit into it. The first move came in 2001, when McDonald's France ran a promotional campaign using beloved French cartoon character Astérix. McDonald's also set up a booth at the annual Salon de l'Agriculture, an agricultural and trade show held in Paris, to tout the fact that it sourced 75% of its ingredients from local farmers and boosted domestic agriculture in a big way.
The strategy continued after Hennequin left the company in 2010. McDonald's France increased its use of Charolais beef (a French breed of cattle) , government-certified cheese, and locally grown potatoes. The menu also expanded to include more traditional French items like baguettes and pastries. In 2007, the Arches launched McCafé in France, or standalone espresso bars offering lattes and macchiatos as well as fruit tarts, macarons, and other French sweets.
So, in its way, the McBaguette does have a role in this comeback story. The bready, mustard-drizzled French sandwich is a perfect symbol of McDonald's continued strategy to embrace French tastes, rather than trying to supplant them.