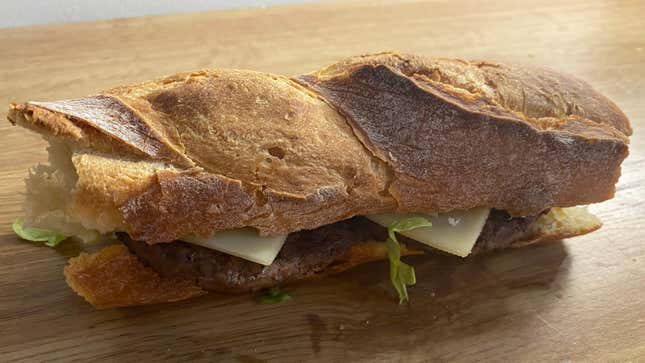 As you likely already know, this season of Emily in Paris features a storyline in which Emily has a shot at landing French McDonald's as a client for Sylvie's new company. The featured product of that campaign is the McBaguette, which the show doesn't go to great pains to explain. But to some American viewers' surprise, the McBaguette is actually a real sandwich. It is described by McDonald's thusly:
"Its Label Rouge wheat flour baguette baked in the oven every day in a restaurant, its two 100% pure beef steaks, its bed of salad, its two slices of French Emmental cheese and its old-fashioned mustard sauce and with Dijon mustard make the McBaguette™ the ultimate French burger."
How To Dispose Of Cooking Grease The Easy Way After Frying
Here's a real commercial for the McBaguette where, unlike Emily's approach of labeling it a "little luxury" (un petit plaisir), the sandwich is framed, using music, as transforming a classic French baguette into something raging, wild, and modern.
Ever since I watched the most recent season of Emily in Paris, I can't stop thinking about the McBaguette. Even though it had gotten a charming 4.5/10 rating from vlogger Hannah Tyson, I still thought that maybe, just maybe, this menu item was going to be delicious. In lieu of hopping to France, I decided to make like a food detective and create one myself, from my kitchen in southern Vermont.
What's in the McDonald's McBaguette?
The McBaguette has, as far as I can tell, five essential ingredients: a baguette, two McDonald's all-beef patties, lettuce, Swiss cheese, and Dijon mustard. I decided to buy high-quality versions of each element in the hopes of producing the best possible sandwich.
For the baguette, I went to a bakery that, according to multiple friends, takes the most authentic approach to French pastries; I figured if I was going to get a baguette, that was probably the best place to do it. Indeed, the baguette I ended up with, was, well, wonderful. It had a perfect crunch on the outside and delightful, delicious crumb on the inside.
The mustard and Swiss were sourced at the grocery store (I went with Grey Poupon mustard). For the beef, I went to the source: McDonald's. To get the two patties I'd need for the McBaguette, I ordered a Big Mac, customized to have no cheese, special sauce, or pickles. I requested extra lettuce so that there would be plenty to transplant onto my sandwich.
Assembling the McBaguette was simple. It looked enough like the ones I'd seen in commercials and in Tyson's video. It was time to take a bite.
The baguette let out a very large crunch as I sank my teeth into it. I realized, while I pushed the baguette together to keep the contents from slipping out, that I'd never had to bite through something so hard or crunchy to get to a burger. There was more jaw gymnastics involved here than, say, wrangling a Big Mac, which, although tall, is soft all around.
When YouTuber Tyson taste tested the McBaguette, she said the burger was bland and not accompanied by enough flavor. Notably, she was in France and I was in America—perhaps McDonald's burger patties are slightly different in each location—but for me, it felt like the first time I really ever tasted a McDonald's burger patty in its true form. Though the crunchy bread was a good sensory experience, it didn't add much to the flavor of the sandwich. Nor, really, did the Swiss cheese or Dijon mustard, which I slathered on pretty thick.
Actually, the burger meat was pretty much all I tasted. And, friends, McDonald's burger patties taste... weird? I'd never had one without ketchup, mustard, cheese, and/or special sauce (even better with extra of each). On their own, sandwiched between a mild baguette, muted Swiss, purely textural lettuce, and mellow Dijon, the two burger patties' flavor was very pronounced and smoke-forward. There are much better things to put on a baguette than a smokey beef patty (or two).
So, I would not, in fact, call this sandwich un petit plaisir. Sorry, Emily. Though, I will admit that taking time out of my day to hunt down ingredients and construct a European McDonald's specialty was a little treat in itself.