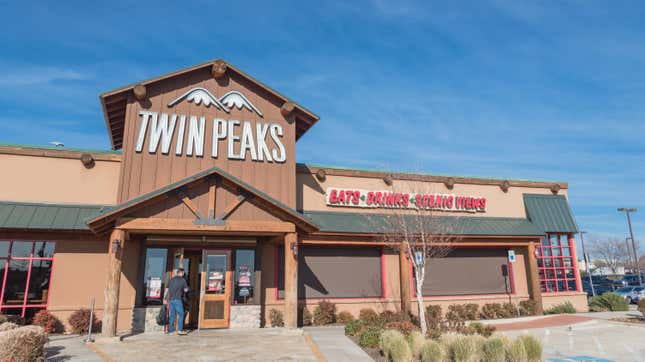 Trade publication Nation's Restaurant News reports that a very particular restaurant chain is poised to hit $1 billion in annual sales within the next five years, and it's one you've perhaps heard of before. Twin Peaks, an American food and craft beer joint which falls squarely into the "breastaurant" category thanks to a service model designed to sexualize its staff, has reported increased sales of 23% year over year, hopping from $397 million in sales in 2021 to $488 million in 2022. With that kind of shocking momentum, Twin Peaks is hoping to hit the $1 billion mark by 2027, a milestone that would place it among the largest restaurant chains in the country.
How To Dispose Of Cooking Grease The Easy Way After Frying
What is Twin Peaks?
Twin Peaks is basically a sports bar that sells pub food such as wings, burgers, ribs, and nachos. CEO Joe Hummel attributes much of the chain's success to that menu.
"Over time, we've fine-tuned what our guests want in our building and in our menu offerings," Hummel told NRN. "That's where the AUVs [average unit volumes] are. We are a sports bar recognized for great quality food and craft cocktails. All of those aspects continue to grow our sales."
What Hummel doesn't mention is the theme of the restaurant, which includes servers whose outfits emphasize cleavage and short shorts. Its logo is a pair of not-so-subtle mountains above the promise of "scenic views," and the website greets viewers with the slogan, "Welcome to the Lodge MANTALITY."
"Twin Peaks is so much more than your typical sports bar," reads the website's "Our Story" page. "The second you step inside, you're surrounded by a lodge full of friendly and attentive Twin Peaks Girls serving up scratch food and our signature 29° beers."
The breastaraunt business is still going strong—just ask Hooters
If you think the breastaurant is a dying relic of a different era, frankly, you're wrong. During the pandemic, Hooters, arguably the most recognizable breastaurant brand, adapted to those stressful times with great success. It focused on takeout while dining room restrictions were in place, and by focusing on digital business alongside its more family-friendly counter-service brand, Hoots, the company managed to keep the brand thriving.
Now in its 40th year, Hooters is still strategizing its expansion. It has set up multiple new locations in a very particular type of locale: retirement communities. There are plans in the works to have six restaurants (three in Las Vegas, three in Florida) set up in retirement areas by 2024.

The breastaurant naturally stirs mixed reactions among diners, but even when people can't agree on whether this service model should survive, there's usually one consensus: the wings are pretty good. Based off the solid numbers that these chains are pulling, more than enough people seem to think so.