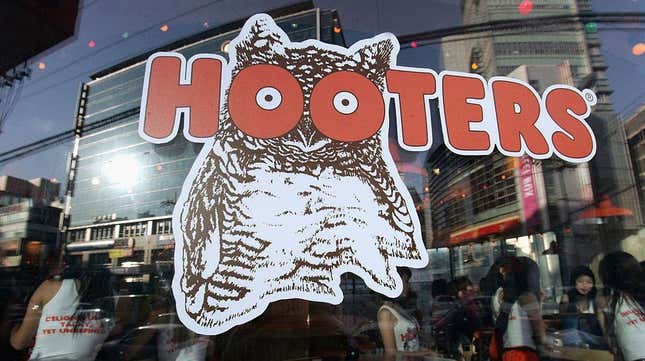 We've previously discussed how Hooters became an unlikely pandemic success story. The casual buffalo wing joint with its pioneering service model spent 2020 leaning on digital brands, takeout, and delivery to make it through COVID restrictions not only unscathed, but growing. Now in its 40th year, Hooters is expanding, building six new restaurants in partnership with the brand's original owners. Three of those locations will be built in a very particular type of place: The Villages in Florida.

McDonald's Shrinks Its Restaurant for the Digital Age
If you haven't heard of The Villages, it's possible you don't know many folks over age 55. For them, The Villages has almost mythic significance: Established in the early 1990s, this neighborhood—not a city, exactly, but technically a "census-designated place"—has steadily expanded to an area larger than Manhattan housing nearly 80,000 residents, the vast majority of whom are retirees. As a thriving retirement community, the area boasts amenities like golf courses, rec centers, and social clubs. Currently, however, it lacks any outpost of America's number-one breastaurant; the nearest Hooters is 25 miles away in Ocala.
Hooters announced this week that its latest six-unit agreement will build locations in both Nevada and Florida, "two paramount states," and that the company's sights are "specifically set on residential neighborhoods."
"Florida has been a tried-and-true state for many years," Neil Kiefer, CEO of Hooters Management Corporation, said in a statement. "The people in The Villages have asked for Hooters, and we are here to deliver."
Indeed, the company's strong presence throughout Florida is part of what helped it weather the pandemic, since that state was among the lightest enforcers of any COVID-era dining restrictions. It seems only right, then, that a geographical area with one of the nation's highest concentrations of Boomers should therefore be blessed with not one, but three Hooters locations as a reward for that consumer loyalty.
In general, Hooters has been spending its milestone anniversary year positioning itself for major growth, touting its attractive franchising opportunities and using only slightly nefarious-sounding phrases like "laser focused on U.S. development" in its press releases. There's no reason to think the chain will not be successful in these efforts—after all, the impact of Hooters on the broader culture is undeniable, and the company claims in its latest press release that Hooters has "100 percent unaided brand awareness," meaning consumers can recall the business without any prompting. Makes sense, doesn't it? Wouldn't it be strange if someone hadn't heard of Hooters? Certainly much stranger than, say, a bunch of senior citizens demanding a Hooters (or three) right in their swampy backyard.