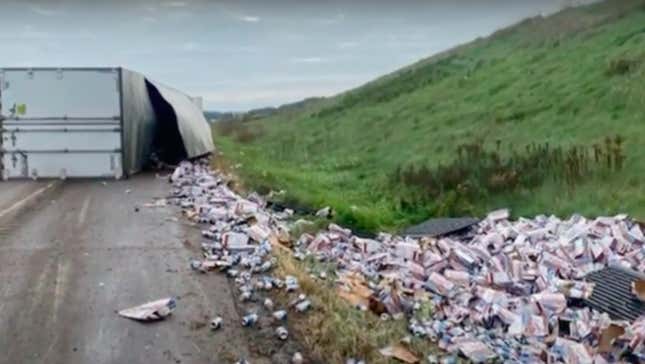 In all of our hard-hitting Overturned Truck research, highway beer spills have always seemed the most miraculous. Wait. What's the opposite of a miracle? There was the 2019 incident during which a semi-trailer transporting beer near Salt Lake City, Utah spilled its forbidden contents across the parking lot of The Church Of Jesus Christ of Latter-Day Saints. Earlier that year, we discussed another spill involving a small truck that tipped over while carrying cases of beer across Georgia, leaving crews to clean (lap) up an unnamed "liquid" from the roadway. And now, we're here to report a seasonally appropriate incident near Eau Claire, Wisconsin: last week, cans of Leinenkugel's beer covered the side of Interstate 94 after a semi rollover. The beer gods are mysterious indeed.
Wisconsin's ABC12 news station reported on the accident, which occurred last Wednesday, October 6. The truck driver reportedly lost control of the delivery vehicle, which overturned on the eastbound side of I-94. No serious injuries were reported, although clean-up blocked traffic for nearly six hours.
In the end, the driver was cited for inattentive driving, and no other vehicles were involved in the crash. And while there's currently no word on the exact clean-up measures employed by the Wisconsin Highway Patrol, I'd like to think that it involved sneaky civil servants whisking away rolling suitcases full of only slightly dented Leinies back to their offices. Tons and tons of free beers? Just as the Wisconsin weather is turning crisp and suds-worthy? Seems to me that this is no mere coincidence. Perhaps this is what the beer gods intended all along.
Let's just hope that the truck driver's "inattentive driving" had nothing to do with the fact that they were hauling a trailer full of brews. Now, that would be a true disaster.