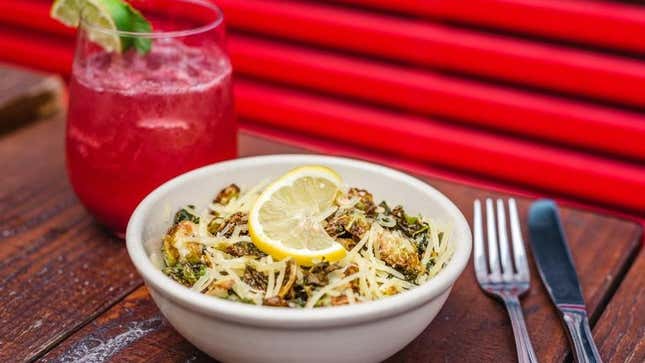 For years in both big cities and smaller ones, the cool kids would never be caught dining out at 5 p.m. That was cocktail hour, if anything. Anyone who actually ate a meal at this unhip hour was presumed to be either a tourist or an old person taking advantage of "early bird" specials. Now, though, it turns out we're all becoming early birds.
How To Dispose Of Cooking Grease The Easy Way After Frying
From Brooklyn to Boston, San Francisco to New Orleans, Chicago to Detroit, there's mounting evidence that restaurants have begun filling up at what used to be an unfashionable time of day. The Boston Globe reports that some area restaurants are even starting the dinner hour in the middle of the afternoon, catering to those who eschew the usual peak time slots.
Chef Douglass Williams says all of his restaurants—his original Mida in Boston's South End, Mida in Newton, Massachusetts, and the newest Mida on the East Boston waterfront—now all open at 4 p.m. "We're finding that people want to eat earlier," Williams told the Globe.

This summer, I've eaten at Dixboro House in Ann Arbor, Michigan three times. The restaurant has been running a Tuesday "Chicken With Friends" promotion featuring visiting chefs such as George Azar from the acclaimed Flowers of Vietnam in Dearborn, and Jordan Balduf, the squire of Sidebiscuit here in town.
All of my reservations have been at either 5:30 p.m. or 6 p.m., because that's when my friends and family wanted to go. In each case, most recently last week, the restaurant was packed when we arrived. That could be a testament to the guest chefs, of course, but a variety of chefs and owners told me diners want to come in during daylight, at least during the week.

How remote work changed restaurant dining
The shift away from later dinners seems to have been an after effect of the pandemic. Working from home eliminated commutes, and theoretically, the moment you turn off the computer, you're free. Kids are hungry after school, and you'd typically feed them this early anyway. Why not take everyone out to eat?
Citing data from Yelp, the Wall Street Journal reported that restaurants are now seating 10% of their diners between 2 p.m. and 5 p.m.—double the number of seatings at those times in 2019.
Remote work has also led to other lifestyle changes, beyond restaurant reservation times. In my case, I usually don't eat three meals a day anymore. I get up, do my stretches, check texts and emails, and eat breakfast around 9:30 a.m. or 10 a.m. Since I'm still full by midday, I skip a formal lunch, and have a snack in mid-afternoon to tide me over until dinner.
In some cases, the post-pandemic workday has also eliminated the cocktail hour that some people observed when they left the office for the day. That bridge from work to dinner isn't as necessary when you work alone; you can mix a drink as the mood strikes you—though hopefully not while you're on a Zoom meeting with your boss.
Restaurants are closing kitchens earlier
One reason that the dinner crowd has been pushed earlier is that it benefits restaurants by necessitating fewer hours in which to serve customers. It's now common for restaurants to close around 9 p.m., at least during the week.
If a restaurant squishes its dinner service into four or even five hours, it means that every available table is in demand throughout the evening. The traditional early evening lag, with tables only sparsely seated until things revved up around 6:30 or 7 p.m., is becoming a thing of the past.
"Most restaurants that made it through the pandemic have altered their hours and now close earlier, so some folks have pushed their eating times earlier," Lisa Schultz, managing partner at Zingerman's Roadhouse in Ann Arbor, told The Takeout. At Zingerman's, the evening rush starts at 6 p.m. and is over by 7:30 p.m.

While reservations at Michelin-starred Galit in Chicago are still in demand from 7 p.m. onward, chef Zach Engel told The Takeout that he's adjusted the restaurant's serving times. Galit doesn't seat past 9 p.m. from Tuesday to Thursday, or after 9:30 p.m. on Friday and Saturday. It used to close service at 10 p.m. or 10:30 p.m. on those days, respectively.
"Not a lot of people want to do a four-email course meal for two to two-and-a-hours and leave a restaurant at midnight on a Wednesday," Engel said.

Why diners prefer early dinners
In a sophisticated place like New York City, earlier dining is a reversal of the decades-long trend in which dinner was the evening's entertainment. Now, it's back to functioning more like a normal meal. As playgoers and concert lovers know, an early reservation offers the opportunity to combine dinner with another activity afterward.

In visitor-focused New Orleans, the 7 p.m. time slots remain in demand, says Jet Gauthier, the restaurant manager for Miss River at the Four Seasons Hotel. But once those slots are booked and diners are given a choice of 6 p.m. or 8 p.m., they typically will take the 6 p.m. slot, he tells The Takeout.
Another trend: earlier brunches. In the past, this meal has often served as a late-riser's lunch substitute, with diners lingering well into the afternoon. But Gauthier says Miss River starts its weekend brunch at 10:30 a.m., and has double the diners at opening than it has at noon. "By 2:30 p.m., most people have moved on from brunch," he says.

Even if you're not enjoying a holiday, an early dinner means you can stop by the grocery store (always better to shop when you aren't hungry), take a walk, attend a class, or binge a TV show before bed. I'll sometimes follow an early dinner with a trip for ice cream. Also, baseball fans have found out that the pitch clock is speeding up games. Lingering over dinner could cause you to miss entire innings.

Advantages of early dinner reservations
There are numerous advantages to a late afternoon dinner. One is that the restaurant, having just opened its doors for the evening service, is probably fully stocked with everything on the menu, including specials. You'll have ample choices that you might not get later in the night.
Another is health. Studies have shown that 5 p.m. might be the ideal dinner time. Your body gets plenty of time to digest your meal, and if you are able to get in a little exercise, even just walking to the car, you start using that fuel before bedtime.
Early meals are often linked to improved sleep, too, especially if your meal includes an adult beverage or two. This offers more time for your liver to process alcohol and for your bloodstream to deal with sugar, if you've enjoyed a dessert.
If you'd like to try making earlier dinners part of your own routine, book your table as soon as you've picked a place to eat, and don't count on those "loser times" to be as widely available as they were in years past. You'll have competition. In fact, since shifted work hours have pushed up dinner time, they've also pushed up rush hour, so give yourself plenty of time to get to the restaurant and find parking, if necessary.
Try to order as soon as you sit down. You'll have the best choice of items on the menu, as well as the specials. Also, find out if your restaurant is limiting the amount of time you can keep the table, and bear that in mind as you eat.
Finally, if you feel that your meal is ending too early, skip dessert or an after dinner drink, and scout out another place nearby or on your way home. That's the beauty of early bird dining.