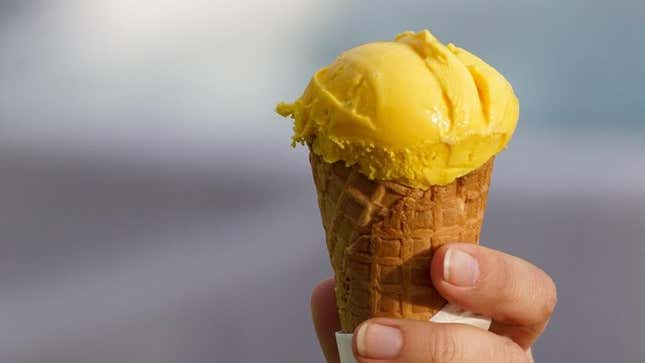 People tend to have strong opinions about their local ice cream shops. Hometown heroes are heavily celebrated, and the underrated spots are heralded fiercely. This year's list of the Top 100 US Ice Cream Shops, compiled by Yelp, held some surprises, both in terms of which businesses made the list and which didn't. On the West Coast in particular, there were some unusual picks. Sitting at #8 on the list is Meadowlark Dairy in Pleasanton, California, which just happens to be where I grew up.
How To Dispose Of Cooking Grease The Easy Way After Frying
The biggest ice cream snub of 2023
I no longer live in Pleasanton, which, yes, as the name implies, is a weirdly idyllic suburb of San Francisco in the East Bay. I'm now in Portland, Oregon, home to the ice cream shop that changed it all: Salt & Straw.
Once a one-shop trendsetter serving up strange flavors, this ice creamery multiplied to locations across Portland before branching out into California and then to other tourist-heavy areas across the U.S., including Las Vegas and Florida. There is a Salt & Straw at both Disneyland and Disney World. The brand ships pints all over the country.
But Salt & Straw, which used to top virtually every list of the best/most beloved/top rated ice cream shops, didn't make Yelp's list at all. Part of that is surely because of the new parameters for the list (more on that later), but part of it also seems to be a general trend away from high-concept ice cream more generally.
Two other Portland shops made the list: Cloud City Ice Cream at #33 and Doe Donuts at #95 (not even an ice-cream-focused shop!). Cloud City is in the style of your local Ben & Jerry's or Baskin Robbins, with a wide number of kid-friendly flavors. Doe Donuts has ice cream sandwiches and pints to go.
The country's top ice cream shops, and the West Coast surprises
In order to create its list, Yelp ranked the ice cream shops "using a number of factors, including the total volume and ratings of reviews between January 1, 2022 and March 31, 2023." The shops represented on the list include both American and Canadian businesses, but all of them have five or fewer locations—a stipulation that wasn't explicitly present on last year's list, and one that disqualifies a chain like Salt & Straw (which now has 36 locations).
The #10 shop, Mitchell's Ice Cream in San Francisco, is an unsurprising inclusion, given the metropolitan foodie-ness of the city where Yelp itself was founded. A variety of other contenders are in beachy locations along the California coastline, including the #5 pick, Fluffy's Sno-Balls in Long Beach, which is more sno-cone than ice cream, but whatever. Here's the full top 10:
Coneflower Creamery (Omaha, Nebraska)
Let's Chill Homemade Ice Cream (Coral Springs, Florida)
I Scream Ice Cream (Albuquerque, New Mexico)
La Paleta (Las Vegas, Nevada)
Fluffy's Sno-Balls (Long Beach, California)
Moo Moo Cows (Baltimore, Maryland)
Tricycle Ice Cream (Providence, Rhode Island)
Meadowlark Dairy (Pleasanton, California)
Confetti Italian Ice & Custard (Costa Mesa, California)
Mitchell's Ice Cream (San Francisco, California)
The inclusion of the Pleasanton shop, Meadowlark Dairy, is pleasantly surprising on a lot of levels.

For one, Pleasanton isn't known as a hub for gourmet cuisine or trendiness of any kind whatsoever. With a population of around 80,000, this wealthy suburb currently trends a touch on the boomer side, with housing prices in this section of the Tri-Valley too high for many young, "cool" people. The dairy itself is in the main shopping area that isn't a chain-filled strip mall, located in the quaint downtown of the city.
For another, "the dairy," as we always called it, is old—104 years old, to be exact. And it doesn't offer a large array of flavors like many of the other shops on the list, much less eye-catchingly strange ones. There's always vanilla and chocolate soft serve, which can be swirled, and then rotating seasonal flavors like coffee and salted caramel, the latter of which is what I ordered when I visited in June. There aren't any weird, worldly add-ins, and there are only five or six to choose from at any time, plus two flavors of slushies.
But I must say, as someone who has been there many times, the dairy is good. A basic, fantastic, and consistent frozen treat, which is not something I can say for the oddest flavors at places like Salt & Straw. Unlike many shops, Meadowlark is also extremely affordable, with prices for cones ranging between $3 and $4.
A return to classic flavors
The affinity for nostalgia is present throughout Yelp's top 100 list this year. The top spot went to Coneflower Creamery in Omaha, Nebraska, another "traditional" ice cream shop where the focus is on high-quality ice cream, not complex flavors. Many of the top 100 businesses incorporate flavors and styles from around the world, but a lot of the top spots went to traditional American presentations.
The return to the classic, simple flavors makes sense, in a way. It's comforting to visit the Meadowlark Dairy when I go home to visit Pleasanton. My children enjoy the smooth, mild flavors of the vanilla and chocolate soft serve, whereas other places are too adventurous for them (what kid wants mustard ice cream?). Without the distraction of novelty flavors, I can taste the quality of the dairy itself, and I appreciate a local business getting the attention it so deserves. The lesson here twofold: Don't undervalue a focus on the fundamentals, and support your hometown businesses if you want to keep beloved destinations thriving.