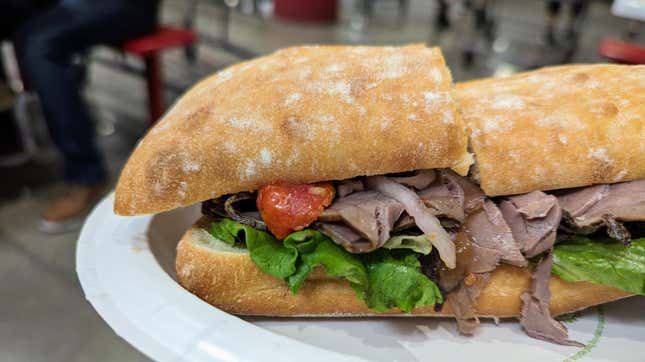 It's not often that Costco debuts a new menu item in its food court. If anything, it's been on a streak of taking them away in recent years, as in the case of the hot turkey and provolone sandwich, the Polish sausage, and the combination slice (the slice of pizza with all the toppings). Known for its hot dogs, Chicken Bake, and pizza, Costco likes to keep things simple.
How To Dispose Of Cooking Grease The Easy Way After Frying
But the giant club store seems to be doing a 180 lately, adding a blitz of new items to its food court menu this year. Raw onions for hot dogs are back after being removed during COVID (albeit in little cups rather than dispensed from a fun crank machine). A new mango smoothie is on the menu (to mixed reviews, says Delish). The Caesar salad has returned and is bigger than ever. And now there's a completely new roast beef sandwich on the menu, too.
Costco's new food court sandwich, explained
The new Costco sandwich features roast beef topped with roasted cherry tomatoes, lettuce, onion relish, red onions, and a mayo and mustard blend, all on a ciabatta roll. In theory, that sounds like a perfectly serviceable sandwich, but there's one very curious thing about it: the price.
This new sandwich is a head-scratching $9.99. This is in stark contrast to the giant hot dog and drink combo, a stalwart of the Costco food court menu. That combo remains a cool $1.50, a price point Costco leadership has fought like hell to maintain. Hell, even the large slices of pizza are only $1.99, and the hearty Chicken Bake is $3.99. Could this sandwich possibly be worth the cost of six and a half hot dogs and sodas?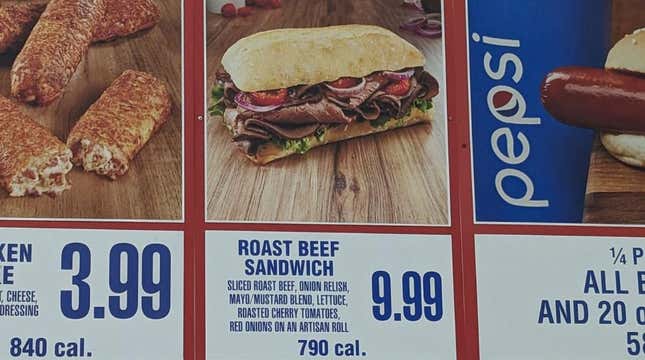 How does the new Costco roast beef sandwich taste?
I visited Costco on a busy weekday afternoon (let's be real, it's always busy) to try this new sandwich. It came out quickly, and I do have to say, this thing had some weight to it. Cosmetically, it was pretty attractive, too, with its bright lettuce and onion relish peeking out the sides. Other customers rubbernecked when I walked by, one of them giving me an interested nod.
I was a little disappointed when I took a photo of its cross section, however, because as you can see, a lot of the heft seems to come from its substantial amount of bread. My first bite confirmed this.
It's not that the sandwich is lacking in meat; there's plenty of roast beef in it. But the ratio of bread to everything else in the sandwich is off. To make things even a little less appealing, the ciabatta is mealy and dense, with a slightly stale feel to it.
The bread issue—both its volume and its texture—ends up negating any joy the other ingredients might bring. The mustard-mayo mix gets lost in all that ciabatta; the onions are too sparse to compete; the relish is undetectable. The standout element of this sandwich, the roasted cherry tomatoes, are absolutely delicious. Unfortunately, they quickly turn into background noise, not only because of the bread, but because there are so few of them.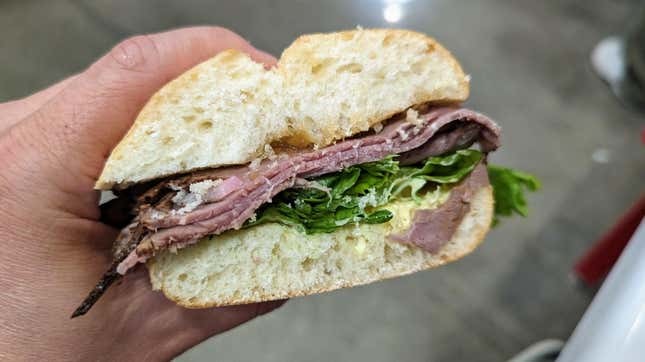 And then, of course, there's that eye-watering price. At $9.99, the roast beef sandwich is now the most expensive item on Costco's food court menu—even more expansive than a whole pizza, which clocks in at $9.95. To justify the cost, this thing would have to surpass a whole lineup of other beloved Costco foods. It doesn't.
I only ate a few bites of the roast beef sandwich before wishing I'd simply gone for a slice of pizza. I will note that my wife enjoyed her half of the sandwich; she noted that, at its current size, she'd happily eat half for lunch and save the leftovers for later. The $9.99 price tag feels more justifiable (and more Costco-esque) if you're getting two meals out of it.
She also pointed out that the sandwich might exist on the food court menu to balance out the hot dog's $1.50 combo price, which is a known loss leader for the store.
"If you want to keep paying $1.50 for a hot dog, once in a while someone's gonna have to pay 10 bucks for a sandwich," she said.
I will admit that $10 is a reasonable price to pay for a sandwich from a mom-and-pop deli, or even at a counter service restaurant chain. But given the bottom-rung prices comprising the rest of Costco's food court menu, coupled with the fact that the sandwich is mediocre at best, I suggest you quash your curiosities and stick to the psychological win of a cheap slice and an even cheaper hot dog combo.