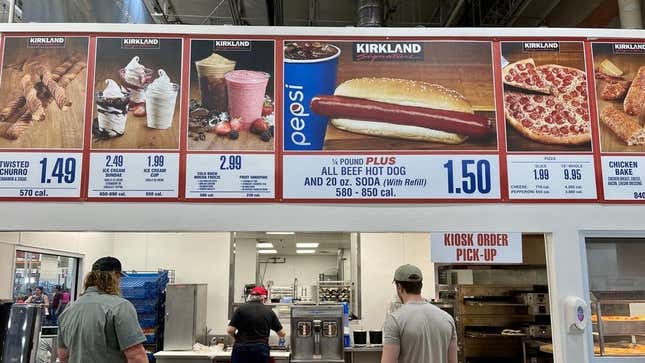 The $1.50 hot dog and drink combo from Costco is a total fan favorite for a reason. The hot dog is not only cheap (and keeps its price down very deliberately), it's also big and actually tastes really good. As a relatively new Costco member as of last year, I've only experienced the four toppings served at the pump condiment station: ketchup, yellow mustard, deli mustard, and pickle relish. But it looks like I'll soon be able to experience the fresh topping that fans have missed since it was discontinued during the pandemic: raw chopped onions.

Dr. Pepper Strawberries & Cream Is Tearing Us Apart
Why were raw onions removed from Costco's food court?
Yahoo reported in 2022 that customers discovered the onion dispensers, which operated by hand crank, were removed from Costco's food courts during the height of the pandemic as a COVID precautionary measure. Costco also removed the combo slice of pizza, which was topped with pepperoni, sausage, onions, black olives, green peppers, and mushrooms (which I've sadly never sampled either).
"While we all have been missing the onions for our hot dog, we don't have a timeframe when they will be returning," Costco told Yahoo at the time.
When are the Costco hot dog onions coming back?
While there hasn't been an official date announced for the nationwide return of Costco's hot dog onions, the process of restoring them to the condiment bar appears to be already in the works. An eagle-eyed Reddit user apparently found a sign at a Pacific Northwest Costco location indicating that the diced onions were coming back, but going forward they'll be portioned in refrigerated cups available upon customer request, rather than dispensed via hand crank.
From an overall food safety perspective, this is probably the better option, since the hand-cranked onions were typically stored at room temperature. Despite being frequently replenished due to high volume, that's not quite ideal from a food safety standpoint. Once chopped, onions should be refrigerated at 40 degrees Fahrenheit.
Costco has not yet responded to a request for comment. Still, I'm weirdly excited by this news, and I know a lot of fellow Costco members are too. I'm due for a Costco run this week, so I'll be keeping an eye out to see if people are walking around with little cups of diced raw onion to dump on their hot dogs. Hey, the onions might not be coming out of a nifty hand-cranked machine anymore, but their return is going to taste just as good.