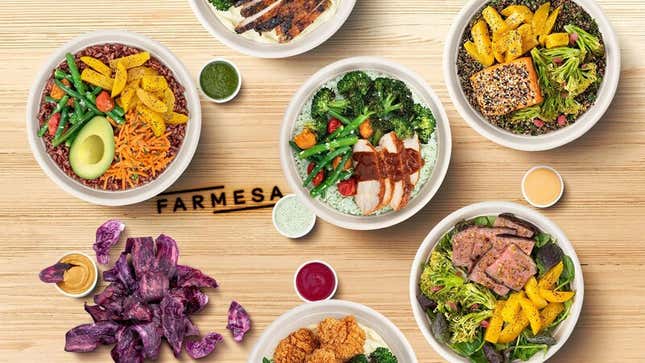 Update, February 15, 2023: The secret's 0ut! Chipotle announced today via press release that Farmesa, a fast casual eatery scheduled to open in Santa Monica next month, is indeed a "California-inspired" Chipotle property, as Restaurant Business speculated last week.
"Farmesa is a fresh, bold concept featuring delicious proteins, greens, grains and vegetables that are inspired by Chipotle's Food with Integrity standards," reads the release in part. And in case that doesn't already sound enough like Sweetgreen, Chipotle cites a nearly identical price point of $11.95 to $16.95 per bowl.
The concept won't be limited to Santa Monica for very long. Chipotle CEO Brian Niccol said in the press release that the Third Street Promenade location is one that "we're excited to test and learn on before we determine a broader rollout strategy."
Does Farmesa sound appealing to you? Sound off in the comments.
Original post, February 14, 2023: A new Kitchen United Mix location is opening soon in Santa Monica, California, and if you have no idea what that is, we're here to explain. The concept is basically a ghost kitchen turned food hall, one that combines the operations of multiple brands in one central location so people can order from different restaurants in one place and restaurants can save on costly real estate. No matter what you call it—food hall, food court, glorified food warehouse—such concepts are on the rise. And the new Kitchen United Mix location in Santa Monica might not seem newsworthy on its face, but one of its tenants has possible ties to a restaurant chain we're all familiar with: Chipotle.
G/O Media may get a commission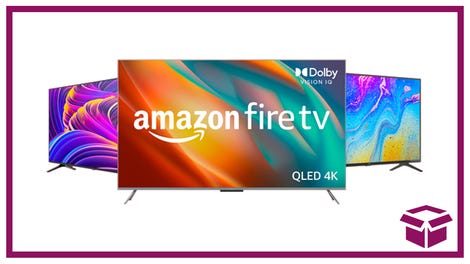 Ooh. stunning.
New Amazon Fire TVs
Restaurant Business reports that the new concept, Farmesa, may in fact be a brand owned by Chipotle, and that everyone's favorite burrito-slinging fast food joint might be using this ghost kitchen to test a new spin-off concept.
What is Farmesa and what food does it serve?
Though no connection between Chipotle and Farmesa has been announced by either brand, Restaurant Business notes that in 2022, the trademark for Farmesa was filed in California by an LLC whose address matches that of Chipotle's Newport Beach headquarters.
The job listings for Farmesa, surfaced by Restaurant Business, explain that Farmesa's mission is "to deliver fresh California bowls made with real, simple and wholesome ingredients you want to eat every day." That sure sounds like something Chipotle would be interested in delivering.
If there is a connection between Chipotle and Farmesa, it certainly makes sense that the latter would offer customers the ability to tailor everything to their tastes, for better or for worse. And with a menu full of "California bowls," this sounds less like something designed to cater to Chipotle customers' tastes and more of a play for Sweetgreen's customer base, since that brand is built almost entirely on bowls made of "wholesome ingredients you want to eat every day." Sweetgreen courts primarily health-conscious customers who favor proteins like chicken or tofu more often than carnitas, and Farmesa sounds like it can deliver to those consumers, too.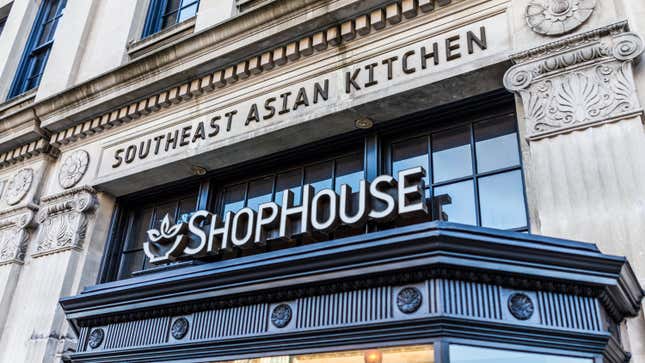 Chipotle has tested new restaurant concepts before
A giant corporation like Chipotle is bound to test out new spinoffs from time to time, even if they don't stick around. In 2011, Chipotle opened ShopHouse, which focused on flavors from Southeast Asia. The food was served in the customizable Chipotle format and the concept grew to 15 locations, though all of them were closed in 2017.
Meanwhile, Chipotle retains its investment in a small five-unit chain called Pizzeria Locale, which is a Denver-based fast casual pizza concept similar to Blaze that opened in 2013. At Locale, customers can either order off the preset menu or customize their own Neapolitan-style pies.
When will Farmesa open?
Farmesa is one of 14 restaurant brands that will operate out of the Santa Monica Kitchen Mix United space. The food hall is expected to open later this month, complete with doughnut stands, pizza counters, and a craft brewery that will serve alcohol on the premises.
With restaurants scrambling to debut smaller footprints (take this McDonald's test location with no dining room, or this three-in-one FAT Brands concept), the future of the fast casual chain might depend on this "omni-channel" approach, selecting sites for both ghost kitchens and brick-and-mortar locations alike. We'll keep an eye out on any expansion plans, and we'll warn you right now, Sweetgreen—Farmesa might be coming for you.