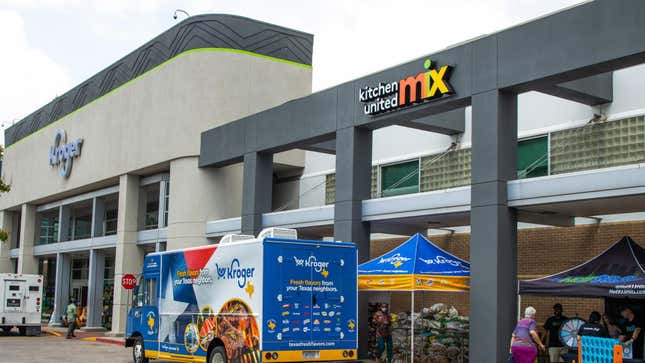 It seems like Kroger is on a quest to take over the world. In October, the nation's largest grocer announced its intent to buy Albertsons, the nation's second largest grocer, for $24.6 billion. Obviously, such a move is subject to intense regulatory scrutiny and may or may not end up panning out—especially considering the Biden administration's aggressive push against large mergers.
How To Dispose Of Cooking Grease The Easy Way After Frying
The question on every shopper's mind, though, is how this proposed merger would affect already sky-high food prices. According to CNN Business, it could really go either way. One analyst told the outlet that the rise of discount chains like ALDI could lead Kroger to actually reduce prices at Albertons stores, which are typically higher. However, a 2012 study found that grocery mergers "can result in significant increases in consumer prices."
Time will tell what effect this merger will have on consumers. It's not expected to close until 2024, if it closes at all. In the meantime, though, Kroger is trying to take over another part of the food space: This grocery store might soon become your favorite takeout restaurant, too.
How Kroger's new food halls work
This month, Kroger will open Mix Food Halls at two Ohio locations. These are essentially in-store food courts with options from recognizable chains like Hardee's, Nathan's, Saladworks, and David Chang's Fuku Fried Chicken. Per a video from NBC 4i covering a Mix opening at another Kroger location in December, the food hall looks like a slightly classier version of the Costco food court, or a condensed version of airport dining. Customers can order either from their phones or from a touchscreen at the store, and all orders are prepared in the same kitchen.
It's a nice idea, especially for anyone who has ever made the grave mistake of going to the grocery store while hungry. Now you can get a hot dog at the food court instead of shamefully walking around with an open bag of chips. But as a born-and-bred East Coaster who has been spoiled by Wegmans, I remain unimpressed.
If you've never had the pleasure of visiting Wegmans, you are sorely missing out. Each location is equipped with a Market Cafe, which has just about every kind of prepared food you could possibly imagine. And it's not like the meals are boxed up and sitting under a heat lamp; most of it is made to order, just as it will be at Kroger's fancy food hall. Wegmans has a pizza station, a sushi station, a deli, a salad bar, an Asian hot bar (which is so good), a cafe, and tons of seating. Some stores even serve alcohol, just like Whole Foods. It's common to go to Wegmans for dinner and not even shop the actual grocery store.
All of this is to say that Kroger's high-concept, cross-branded in-store food hall might sound innovative, but it doesn't really feature anything that our favorite grocery stores don't already have.