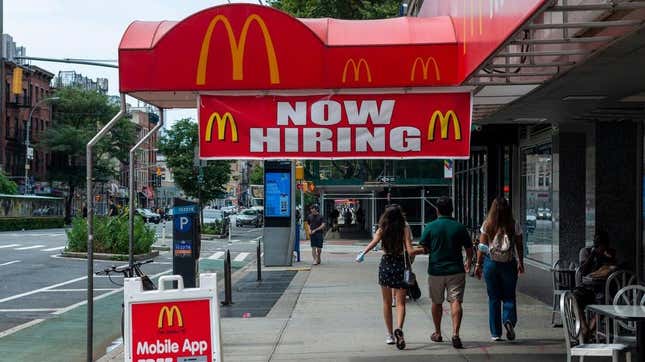 Churning out french fries and flipping burger patties is a common way for a teenager to enter the workforce. But in recent years these jobs have also become a way for fast food companies to take advantage of inexperienced minors, and the problem has only grown more widespread.
McDonald's Shrinks Its Restaurant for the Digital Age
The most recent instance of a fast food business violating child labor laws occurred at multiple McDonald's restaurants in Louisville, Kentucky, according to a news release from the U.S. Department of Labor. The release notes that three franchise groups face a combined $212,544 in penalties for exploitation of a combined 305 child laborers. While child labor law violations often involve what might be mere oversights, such as legally employed teenagers being assigned too many hours on school nights, these latest infractions are rather glaring. 
How McDonald's violated child labor laws
According to the Dept. of Labor report, one McDonald's franchisee, Bauer Food LLC, was found to be employing 24 minors under age 16 to work more hours than legally permitted. (While children ages 14-15 can legally work in fast food restaurants in Kentucky, they may do so only for limited spans of time so as not to interfere with school.) Worse still, two 10-year-old children were found to have been working as late as 2 a.m. for no pay at all—and one of them had been operating the deep fryer, a dangerous kitchen task that's illegal for anyone under 16.
The other two franchise groups, Archways Richwood LLC and Bell Restaurant Group I LLC, were found by the Dept. of Labor to be employing a combined total of 281 minors aged 14-15 to work excessive hours. These shifts not only ran earlier and later in the day than child labor laws permit, but Bell also scheduled two minors to work during school hours and "systemically failed to pay workers overtime wages they were due."
"These reports are unacceptable, deeply troubling and run afoul of the high expectations we have for the entire McDonald's brand," Tiffanie Boyd, senior vice president and chief people officer at McDonald's USA, told CNN. "We are committed to ensuring our franchisees have the resources they need to foster safe workplaces for all employees and maintain compliance with all labor laws."
One of the franchisees confirmed to CNN that the two kids allegedly working for free were children of the night manager. However, the two were not approved by franchisee organization management to be in that part of the restaurant.
Other restaurants that violate child labor laws
As upsetting as it is to know children as young as 10 were placed in a dangerous situation for the sake of a (very profitable) business, McDonald's is not the only chain to have violated child labor laws and been hit with penalties in recent months. Placing minors in excessive and dangerous working conditions is a trend many chains have fallen into.
"Too often, employers fail to follow the child labor laws that protect young workers," said Karen Garnett-Civils, Wage and Hour Division District Director, in the Labor Department's statement. "Under no circumstances should there ever be a 10-year-old child working in a fast-food kitchen around hot grills, ovens and deep fryers."
In December 2022, a Chick-fil-A in North Carolina had to pay a $6,450 fine and $235 in back wages for not only allowing employees under 18 to operate a trash compactor, but also for paying those employees in meal vouchers rather than actual wages. That same month, Crumbl, the cookie-focused bakery chain everyone's obsessed with, was similarly found guilty of allowing teens to operate hazardous machinery and scheduling them for more than the 40 hours per week permitted by law. For this incident, the company paid $57,854 in penalties for violations across six states.
Earlier in 2022, both Dairy Queen and Chipotle also violated child labor laws in multiple states. Dairy Queen had 102 alleged violations in both Indiana and Michigan across 11 store locations, resulting in a $42,572 fine. After the state of New Jersey conducted an investigation into Chipotle locations across the state, it was found that the chain had thousands of violations across 85 locations, including instances of minors working more hours than legally allowed and a lack of sufficient meal breaks. Those violations resulted in a whopping $7.75 million in penalties; in response, Chipotle announced that it would make a plan to keep the chain compliant with child labor laws moving forward.
If you're baffled by how these businesses keep committing the same crime over and over again, look at the amount of the average penalty. These fines, often four or five figures, can be just a drop in the bucket of annual sales, even at the franchise level. There's nothing inherently wrong with teenagers learning how a business operates, gaining experience, and earning their own money (with parental consent), but they shouldn't have to put themselves in such a vulnerable position and expose themselves to potential exploitation just to do so.
If a business wants to take on teenage employees, that employer has a crucial responsibility to create appropriate working conditions for minors and monitor operations for compliance. Does it even have to be said that overworked children should not be the driving force behind the world's most profitable fast food chains?