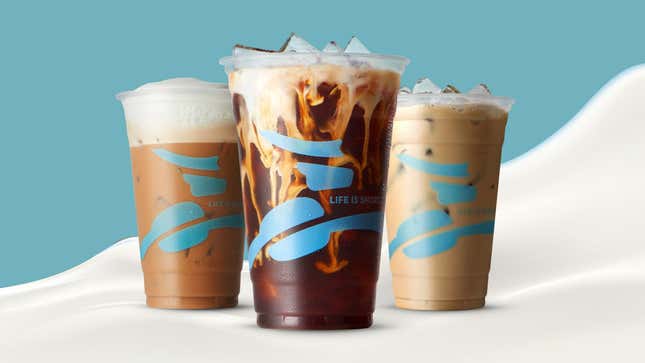 We're living in a golden age of coffee customization. Syrups, flavor shots, and dairy-free swaps are now standard options at the nation's largest coffee chains like Dunkin' and Starbucks. But one element of our modern coffee landscape remains stubbornly stuck in the past: the extra charge for non-dairy alternatives. That's what Caribou Coffee is about to fix, and when it does, it'll make Starbucks look bad.

How to Brew Tea Without Ruining It
Why Caribou is removing its oat milk and almond milk surcharge
Noting the increasing consumer demand for non-dairy beverages, Caribou has announced that starting May 4, customers can order their drinks with milk alternatives for no additional charge. You'll have to be a Caribou Perks member to get these customizations for free, though, and you must order ahead through the Caribou app. Still, if you're a regular latte drinker, the savings really adds up.
"Dairy-free and plant-based offerings are increasingly important to our guests and to our planet," said Chief Brand and Marketing Officer Erin Newkirk in the announcement.
The brand notes that almost 20% of Caribou customers' orders are customized with oat milk or almond milk, and the majority of that subset of customers are Caribou Perks members. Currently, all Caribou customers nationwide can enjoy non-dairy milk alternatives at no additional cost, but this promotion will end on May 3. After that, only Rewards members will enjoy this perk.
By the end of 2020, plant milk sales reached $2.5 billion in the United States. In 2021, almond milk alone accounted for a sales value of $344 million within just a three-month span. And Gen Z simply isn't drinking traditional dairy milk like the generations before them. Given all this, it makes sense to build plant milk into the cost of a beverage rather than breaking it out as an extra fee.
Caribou is doing what Starbucks won't
Although Caribou's announcement might seem like a small step—Caribou sits in the lower half of the top 10 coffee chains in America—it's still more than Starbucks is doing. Although Starbucks has dropped the extra charge for non-dairy milks in its U.K. market, the extra cost still remains the norm at all U.S. locations, to the tune of roughly $0.80.
It seems that an increase in consumer demand, repeated pleas from activists, and moves by competitors like Caribou are all insufficient to spur Starbucks to make a change. Animal rights organization PETA has petitioned for Starbucks to eliminate its upcharge on vegan milk, gathering more than 140,000 signatures in the process. The petition also notes that other coffee competitors such as Panera Bread, Pret A Manger, and Philz Coffee already offer dairy alternatives at no extra charge.
There was a time not so long ago when dressing up a cup of coffee with anything other than cow's milk was highly unusual. Now, instead of seeming like a luxury, plant-based options like oat, soy, and almond milk have moved a lot closer to being considered the norm.

"I don't think there is an end in sight for dairy alternative innovation — or at least not anytime soon," Sydney Olson, a food and drink analyst for market research firm Mintel, told the New York Times in 2022.
Considering the popularity of non-dairy alternatives, it's surprising that Starbucks has dragged its feet on eliminating excess fees around it. But, I guess money speaks more loudly than petitions or customer demand. Recent changes to the Starbucks Rewards loyalty program have made it so that the brand profits even more off of charging extra for drink customizations like non-dairy milks. Hats off to Caribou for even its small gesture toward its loyal customers.