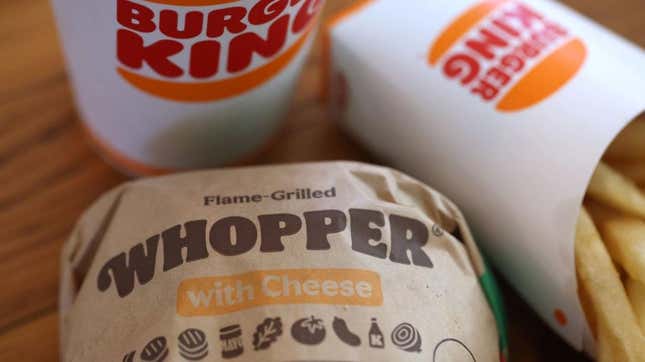 Back in early 2022, Burger King laid out an ambitious plan to reestablish the Whopper as the greatest burger in fast food. Remarkably, its efforts seem to be working: a new slogan and jingle that no one can get out of their heads have helped bring Whopper sales way up. But now, just when the burger has been restored to its former glory, Burger King is being slapped with a lawsuit that claims the Whopper is not as mighty as it appears.
How To Dispose Of Cooking Grease The Easy Way After Frying
Reuters reports that a Miami judge has allowed a lawsuit against Burger King to proceed, rejecting BK's request for dismissal. The lawsuit alleges that in-store menu boards advertising the Whopper make the burger appear larger than it actually is, deceiving customers who purchase it. This, the lawsuit says, amounts to a breach of contract.
"Customers in the proposed class action accused Burger King of portraying burgers with ingredients that 'overflow over the bun,' making it appear the burgers are 35% larger and contain more than double the meat than the chain serves," Reuters reports.
Burger King's parent company, Restaurant Brands International, claimed in court that it's not a requirement for a restaurant to make food that perfectly matches what's featured on the menu boards. There's some precedent for that. While it's true that food photography must depict the real menu item and not a replica, there are all sorts of industry tricks used in food marketing materials to maintain a look of "freshness" (spritzing water on lettuce, brushing canola oil on a bun) that aren't applied to the product customers receive. However, the judge said that jurors will ultimately determine what's "reasonable" for a customer to expect when they see the Whopper pictured above the register—and whether the burger they receive is a reasonable fulfillment of that promise.
Burger King continues to deny that its marketing is at all misleading. "The flame-grilled beef patties portrayed in our advertising are the same patties used in the millions of Whopper sandwiches we serve to guests nationwide," the brand said in a statement.
The case is similar to this summer's class action lawsuit against Taco Bell, in which the plaintiff claims the Tex-Mex chain misrepresented the amount of meat and beans in its menu items like the Crunchwrap Supreme and the Mexican Pizza. Whereas the Whopper is being called out for being 35% overstated in size, the Taco Bell complaint alleges that the filling in these menu items is being overstated "by at least double the amount."
Ultimately, customers want to know they're getting what they paid for, a priority that becomes even more important as fast food menu prices creep upward; U.S. district judges nationwide apparently agree. Although if Burger King is being sued for anything, we're honestly a little surprised that it's not for bringing this thing into the world.