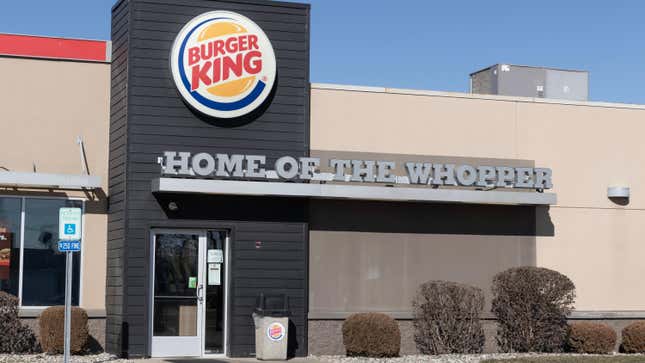 Burger King has been top of mind lately with a jingle that just won't quit, and the fast food chain knows it. Riding high from this Whopper-related success, Burger King plans to speed up the timeline for its "Reclaim the Flame" revamp, Nation's Restaurant News reports.
While people sing "Whopper, Whopper, Whopper, Whopper" to themselves unprompted and Burger King drops Whopper EPs that receive over 50,000 Spotify listens, the incentive to push for growth now rather than later is evident. Although Burger King's VP of Marketing Communications, Zahra Nurani, told The Takeout that the company couldn't comment on specific sales figures, Nurani did note that the campaign scored 99% in brand recall, which measures "the percentage of people noticing a brand being advertised."
In the fourth quarter earnings release for Restaurant Brands international, Burger King's parent company, BK saw an 8.4% increase in consolidated same-store sales (which includes international locations). The burger chain also saw 11.8% system-wide sales growth for the three months ending December 31, 2022. That squares with when the new "You Rule" campaign rolled out at the start of October.
"To better capitalize on the momentum we're seeing in the business, we've decided to accelerate our timeline and now expect to deploy the majority of our announced $50 million Royal Refresh spend in 2023," Joshua Kobza, the incoming chief operating officer of RBI, said on a recent earnings call.
What is Burger King's Reclaim the Flame program? 
Burger King revealed its Reclaim the Flame plan in 2022, a $400 million investment plan. The approach is twofold: one portion, Fuel the Flame, is investing $150 million in advertising and digital. The second portion, Royal Reset, puts $250 million toward restaurant technology, kitchen equipment, building enhancements, and high-quality restaurant remodels.
G/O Media may get a commission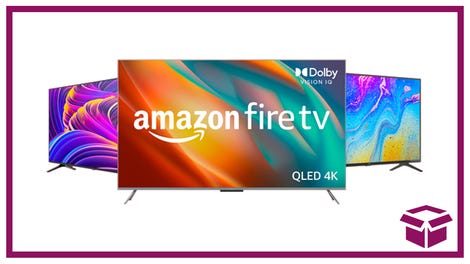 Ooh. stunning.
New Amazon Fire TVs
A large portion of these revamp plans falls on the shoulders of franchise owners, who have agreed to match dollar for dollar the company's investments in advertising and make a "comparable co-investment" in the remodeling plans for restaurants.
What is Burger King doing to refresh the brand?
Since launching Reclaim the Flame, the home of the Whopper has already spent $15 million on new point-of-sale terminals, kitchen display screens, and indoor digital menu boards, which will be in use starting this month in various locations.
Kobza said on the earnings call that the company now plans to splurge a lot of the funding in 2023 rather than portioning it out more slowly across the next two years. It also seems that the brand is intent on reviewing applications from franchise owners to greenlight remodels of select restaurants. Many of the remodels include upgraded fryers, broilers, property lighting, and signage.
"Nearly a quarter of the remodel applications are for scrape and rebuilds," added Kobza. "While these scrapes are the most intensive capital project type, they also see the highest sales uplift and position the brand for success in their markets for decades to come."
Bottom line: Burger King doesn't want to let a good thing go to waste. Since everyone's talking about the Whopper (Whopper, Whopper, Whopper) right now, the brand is striking while that iron is hot.