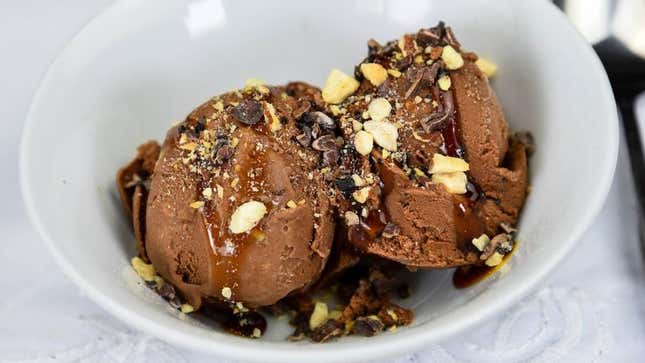 I can eat dairy, but sometimes I choose not to. I heard a rumor that you can become lactose intolerant if you hit your "lifetime limit," and I don't want to play with fire… or ice. So, I order non-dairy lattes and experiment with non-dairy ice cream products on the regular. I have found several that rival some of the best grocery store ice cream brands, and some that, in fact, might even surpass those dairy-filled frozen desserts. Here's what to buy on your next grocery run.
How To Dispose Of Cooking Grease The Easy Way After Frying
The pros and cons of frozen non-dairy desserts
My body doesn't like soy, so I have not included any soy-based products in my list. They also tend not to be anything too exciting, in terms of both taste and texture. You might like soy desserts, but to quote The Wedding Singer, "I have a microphone and you don't so will listen to every damn word I have to say," and I have no more to say about soy.
Let me also assure you that I'm not including any products I don't like, of which there are several. There are ice cream brands I love whose non-dairy offerings just don't stack up, and there are also many dairy-free options that are simply gross and bad. For my research, I mostly purchased non-dairy ice creams with a chocolate base to see whether the cocoa flavors shine through. Anything that didn't make the list of recommendations either didn't taste like chocolate, tasted like nothing, had an unpleasant texture, or some combination of the three.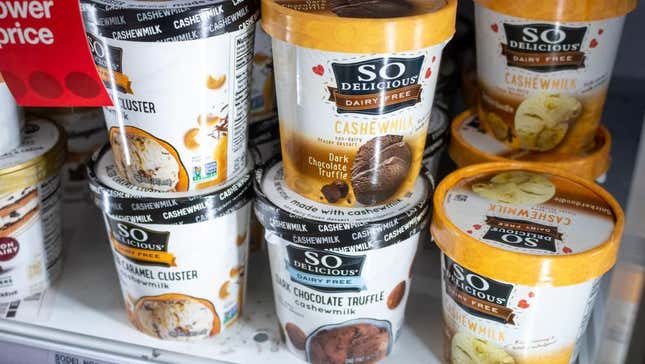 So Delicious
I am not sponsored by So Delicious (call me), so you know I'm impartial. This brand sells a few different types of dairy alternatives, but the winner for me was the cashewmilk desserts, which taste most like classic ice cream. I also enjoyed the oatmilk variety, though it most certainly tastes like oatmilk. I like that flavor, one that tends to add depth to the flavor of the base plus any add-ins—but it can feel like a persistent, subtle reminder that what you're eating isn't ice cream.
Although I'm a coconut milk fan in general, I didn't love the coconutmilk So Delicious frozen desserts as much as the others due primarily to their texture. Since coconut oil (which the products also contain) solidifies really quickly and efficiently at low temperatures, the dessert was harder and more brittle than the others, despite being frozen for the same amount of time.
Trader Joe's
I have tried several of the non-dairy options from TJ's as they come in and out of season, and I've found that they're highly variable in flavor and quality. The Cold Brew Coffee & Boba Coconut Non-Dairy Dessert has a coconut milk base, which complements the coffee flavor (as it does in a coconut milk latte). Unfortunately I hate boba, aka chewy tapioca balls, almost as much as I hate seltzer, so this one is a no from me, dawg.
The Okie Dokie Oat Non-Dairy Frozen Dessert at Trader Joe's looked really promising; it features "vanilla-flavored oat beverage mixed with crunchy, spongey toffee pieces and a luxurious caramel swirl," and an oat base usually means good things for ice cream dupes. Unfortunately, I hated this one. It was too watery, and the overall sugar taste was overpowering the actual flavors of the oat milk, toffee, and caramel.
The best non-dairy frozen dessert currently available at Trader Joe's is the Very Chocolatey Oat Non-Dairy Frozen Dessert with Fudge Brownies, which is as chocolatey as promised but not too sweet—more of a grown-up flavor. The texture is light, and you can definitely taste the oats, but it works here.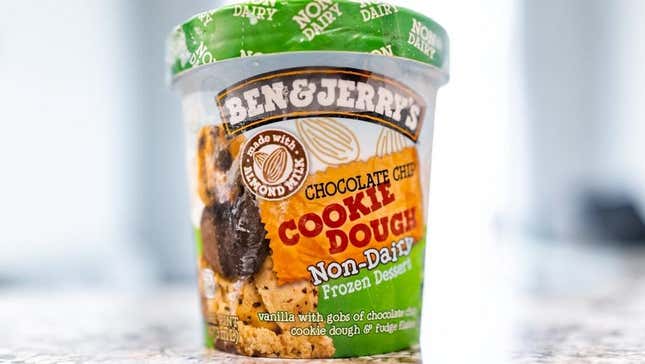 Ben & Jerry's
I love both classic Ben & Jerry's ice cream and the frozen yogurt line, so I approached the non-dairy offerings with skepticism, certain they wouldn't taste as good. Interestingly, unlike most leading companies, Ben & Jerry's uses sunflower seed butter as the base for many of its frozen desserts. These pints also contain coconut oil, soybean oil, canola oil, sunflower oil, pea protein, tapioca starch, guar gum, and locust bean gum, among other ingredients. So, while sunflower products tend to be the lowest risk for allergens, there's a lot of other stuff in this dessert that allergy parents might want to double-check. The brand has also expanded into almond-milk-based flavors.
All this is to say that none of the plant-based offerings taste much like Ben & Jerry's ice cream, but they are tasty. True to the flavors that made the brand famous, it's the toppings that bring the boys to the yard. The base is blander than many ice creams—my preference is for the almond in this case—but the toppings were just as good as in any classic B&J pint, with big chunks of cookies or frozen fish or whatever the case may be.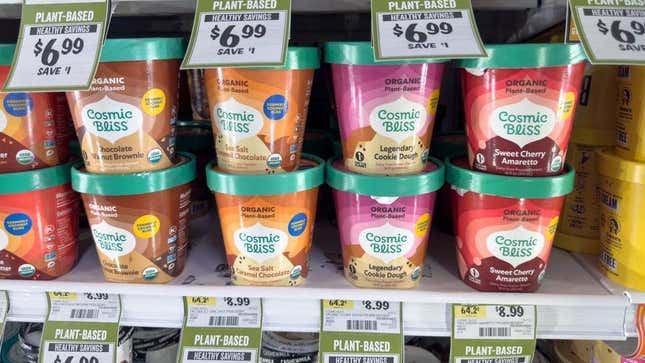 Cosmic Bliss
In early 2022, grocery brand Coconut Bliss changed its name to Cosmic Bliss to reflect the full range of options it now offers in both dairy and non-dairy categories. The coconut milk products boast fantastic texture and flavor, and if you consider it a dealbreaker for a coconut milk base to taste too prominently like coconut, this is the one for you. Best in the biz for coconut milk products. This Eugene, Oregon–based company really bit off a lot by introducing dairy products into its portfolio, since it has to compete in that category with Oregon's own Tillamook ice cream, which is a leader in the milk space and feels no need to dip into the dairy-free game. But even if Cosmic Bliss only ever excelled at plant-based, that would be enough for me.