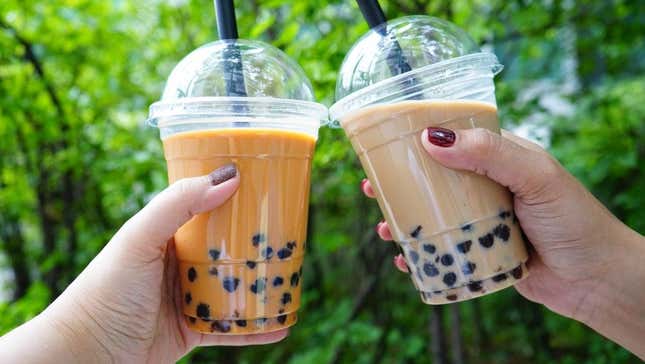 On a recent summer afternoon at Green Mountain Squeeze, a smoothie bar in Wilmington, Vermont, a patron stood at the cafe's warm-toned copper counter, sipping a smoothie and eying the cafe's latest menu listing: boba tea.
How To Dispose Of Cooking Grease The Easy Way After Frying
"Boba tea?" she asked. "What is boba tea?"
Owner Haley Frano launched into a description of the drink, which the cafe added to its menu about a month ago. The new offering from Green Mountain Squeeze represents the small ski town's first foray into boba tea; as a result, Frano and her partner, James Casterline, along with the cafe's employees, have become bubble tea educators for some of the small town's full-time residents, many of whom had not experienced the drink before.
Frano went through the regular talking points: the various flavors of the milk tea, the oat milk the cafe is swapping in to keep it vegan, the tapioca balls (aka boba) that sink to the bottom of the cup. The patron's next question is the same one my dad asked several years ago when he first saw me chewing a tea-covered tapioca ball I had slurped through a giant colorful straw: "Why would you enjoy drinking that?"
At Green Mountain Squeeze, a young staff member chimed in from behind the counter: "Because it's the most delicious. Thing. Ever."
It can be hard to put a finger on what makes boba tea (also known as bubble tea) pleasurable, let alone craveable, yet for myself and millions of others, it is both of those things. Frano said that although she likes boba tea, it was her staff's enthusiasm for boba—and a trend report that predicted it will continue to rise in popularity in the United States over the next decade—that inspired her to add it to the menu. Why not be the one to introduce the drink to Wilmington?
Bubble tea originated in Taiwan in the 1980s, and like most storied foods, the exact origins of the chewable drink are debated. One narrative attributes the invention to Lin Hsiu Hui, a product manager who wanted to combine tea with fen yuan, a Taiwanese dessert made of sweetened tapioca. Another version attributes the invention to Tu Tsong-He, owner of the Hanlon Tea Room in Tainan, who was reportedly inspired by tapioca balls he saw at a local market. Wherever it came from, it's been around roughly 40 years.
It soon took off, and by the 1990s, it was gaining popularity in the United States, often at establishments dedicated to bubble tea. These tea shops typically offer a lot of flavors to choose from, as well as customizable sweetness levels, and customers have the option of tapioca balls, jellies, and popping balls as "toppings." That's a bit of a misnomer, since they often sink to the bottom of the drink rather than floating on top.
According to a report from market research firm Precedence Research, bubble tea's popularity in the United States is expected to soar over the next ten years, growing from a $3.27 billion industry in 2022 to $6.14 billion in 2032. Some analysts attribute this growing trend to a desire for the tea's mild and sweet taste, its affordability, and its customizable nature. Other analysts say Gen Z is driving the trend, partially because of a generational focus on health- and earth-conscious food choices.
"Because it's made with natural ingredients, they see it as a healthier alternative to other drinks like soda or energy drinks," explains cafe software firm Per Diem.
Anecdotally, the idea that boba's popularity is on an upward trajectory seems undeniable, given how many bubble tea shops have sprung up in my surrounding suburbs—and the drink has started to appear in places that aren't bubble-tea focused, like the aforementioned smoothie bar in my small ski town and a bookstore cafe that sells delightful sandwiches and good coffee.
As bubble tea continues its mainstream dominance, it will be interesting to see how its format changes to suit the individual businesses that serve it. In the case of Green Mountain Squeeze, Frano says that as a small business owner she didn't feel she could offer the level of customization that traditional boba shops do. Instead, the menu at Green Mountain Squeeze features a few curated concoctions.
"Normally, it's 'build your own,' but that's just too much for us to do, so we decided to make it 'craft,'" said Frano. "We came up with drinks, and people can take out ingredients if they want. We had to make it achievable for ourselves."
The cafe is making its own boba milk, which is vegan, and is even making its own boba, not only to create a craft experience but also because the premade boba Frano ordered initially just didn't pass muster. The process involves rolling out tapioca dough, cutting it into tiny pieces, rolling balls, and then boiling them for 30 minutes. So far, the work has paid off.
"We seem to be getting people who wouldn't have normally come in, which is interesting," Frano said. "Everyone that comes in is really excited to try it." That is, once they figure out what it is.