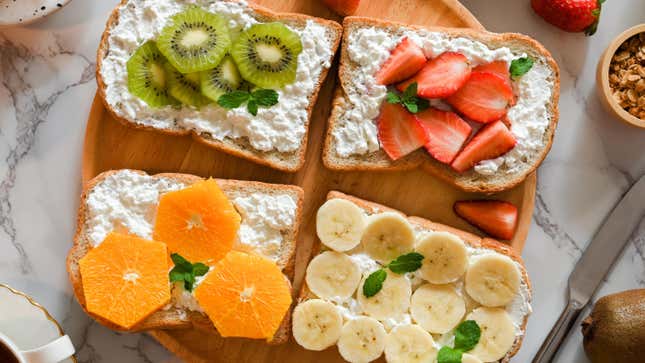 The milk wars have created a generational split in which drinking cow's milk is no longer what the cool kids do. However, there is one dairy product that has managed to find favor with Gen Z consumers in 2023: cottage cheese.

How To Dispose Of Cooking Grease The Easy Way After Frying
How do lumpy, white curds of milk gain popularity in a world where the dairy industry is being called out on billboards in Times Square? The TikTok community strikes again, baby. A search of the hashtag #cottagecheese on TikTok yields 353.3 million views' worth of videos. Despite the fact that cottage cheese is most often associated with older generations, its many uses and benefits have led to the product's recent virality online and a spike in sales, The Wall Street Journal reports.
A brief history of cottage cheese
Cottage cheese was long prized as a diet food among American consumers due to its high levels of protein and low levels of sugar, reaching its peak popularity in the middle of the 20th century. NPR reported in 2015 that by the early '70s, the average American consumed around five pounds of cottage cheese per year, and former President Nixon often ate it with pineapple. (This author has always associated it with her grandfather's routine breakfast: a bowl of cottage cheese topped with fruit, alongside a grapefruit.) The curds enjoyed their heyday until yogurt took the crown starting in the '80s.
"It was the bastion of side dishes and retirement homes and was definitely a category that was associated with an older demographic," Sarah Healy, senior vice president of marketing at Cabot Creamery, told The Wall Street Journal. "Then it started to explode." That explosion began sometime around early 2022.
Since then, cottage cheese has found new popularity thanks to the creativity of TikTok influencers and the public's newfound desire for high-protein dishes. Cottage cheese sales in the U.S. were up 15.9% to $1.2 billion over the 52-week period ending May 21, according to market research firm Circana, reports WSJ.
How to use cottage cheese in recipes
One of the most popular cottage cheese uses touted on TikTok of late is homemade "ice cream." The following recipe, which only requires three ingredients, received 3.8 million views and almost 160,000 likes on TikTok.
Other popular recipes incorporating cottage cheese include using it to make a high-protein cheesecake (hey, we know all about that!) or, for a more unusual combo, cottage cheese and mustard dip. Yes, young people are dipping various veggies and/or proteins like chicken sausage into a mixture of cottage cheese and mustard. The hashtag #mustardcottagecheese has almost 540,000 views on TikTok.
Cottage cheese may have once been the diet food of an older generation, but it has come roaring back as the high-protein darling of a new generation looking to bulk up. Its return has been teased for years—maybe all it needed to reclaim its status was a nudge from TikTok.