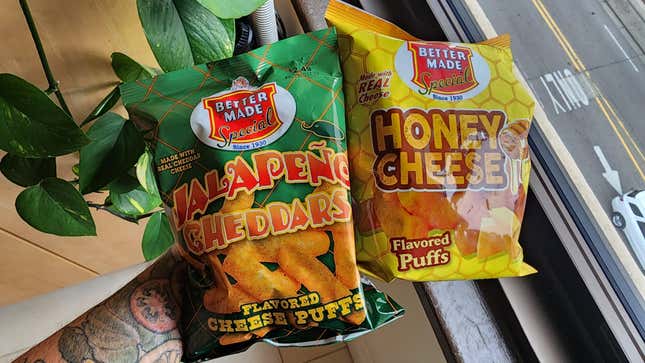 Not all cheese puffs are built the same. Mainstream cheese curl snacks like Cheetos and grocery store brands like Great Value and Trader Joe's get blown out of the water by most regional companies. Jax, Utz, and Herr's all provide superior tasting products. Now, there's a new cheese puff to add to that list, and it's worth your immediate attention: Better Made Honey Cheese Puffs.

How To Dispose Of Cooking Grease The Easy Way After Frying
Better Made Snack Foods is based in Detroit, Michigan, and its website claims that "of the 20+ original potato chip companies in Detroit, Better Made is the only survivor!" It was started in the 1930s by two Sicilian immigrants, Cross Moceri and Peter Cipriano; initially called Cross and Peter Company (not very catchy), the company's name was eventually changed to the snappier Better Made when the Ciprianos bought out the Moceri family.
That the company was started by entrepreneurial Italian immigrants is a bit of an outlier in the snack world. Plus, the 1930s was quite early to get into the potato chip game. Herr's started in 1946, Zapp's in 1985. Wise and Utz came about in the '20s, so Better Made wasn't all that far behind.
The packaging of these chips also reflects the company's long history. Scroll through this article to check out the retro '50s and '60s labels and you'll find they aren't too different from the fonts and imagery used today.
Though Better Made is a Detroit staple, you should be able to find these snacks outside of Michigan, too. As of 2018, they're now available in 14 other states. According to DBusiness Magazine (Detroit's Premier Business Journal), we can expect more Better Made growth:
"The growth of our brand is really flourishing now," says Sam Cipriano, CEO of Better Made. "We are starting to get a real foothold in several new states with smaller distributors and are expecting to grow each market and add new states this year. The growth is due in part to our loyal customers living out of state and the desire for niche brands across the country."
Fast forward five years, though, and Better Made still feels like a regional speciality. My whole damn job is to scour the snack aisle for potato chips, and a lot of people tell me about snacks that I need to try. Still, I only found Better Made because I went directly to Detroit a few weeks back. You might not be seeing these cheese puffs at a 7-Eleven (although I've seen Herr's at 7-Eleven locations on the West Coast), but smaller stores specializing in regional brands might carry Better Made. I hope so, because if the Honey Cheese Puffs are any indication, this brand truly holds up.

What do Better Made Honey Cheese Puffs taste like?
They taste like whole bunch of different things, and I'm blown away by the flavor here. Sweet, savory (so damn savory), quite salty, cheesy, and even a little spicy—I don't know that I've ever tasted a cheese curl with so much going on.
That amalgam is the result of sound snack design. The ingredients notably list MSG, butter, tomato powder, salt, honey, garlic powder, horseradish powder, onion powder, and cheddar cheese (emphasis mine). The alchemy here is astounding; butter is not an ingredient that you often see in cheese puffs. My previous favorite plain cheese curl, Jax, doesn't include it. Better Made's inclusion of butter makes these cheese curls taste all the more rich. That richness is reflected in the fat and saturated fat listings, where Better Made also beats Jax. Fat equals flavor.
Horseradish powder adds a bit of spice. MSG is a necessity in any irresistible cheese puff. Garlic and onion powder are thoughtful inclusions (also featured in most Ranch flavored chips). Then there's tomato powder—that's an odd one. I can't really tell what it does here, but Better Made's attempt to throw the whole kitchen sink at these cheese puffs really works. There's an explosive amount of flavor here, and best of all, none of it distracts from the prominent cheese taste.
It feels cheap and overzealous using superlatives to proclaim the "best" anything. I recently declared Herr's Jalapeño cheese curls the best cheese curls I've ever had, but now Better Made has surpassed them. If there's one thing I've learned traveling the country eating snacks, it's that you shouldn't get too far ahead of yourself. There will always be some regional brand out there waiting to be discovered, and it might just make you rethink everything you've tasted before. Better Made is best, but only for now.
You can order these awesome cheese puffs through the Better Made website directly, or on Amazon.