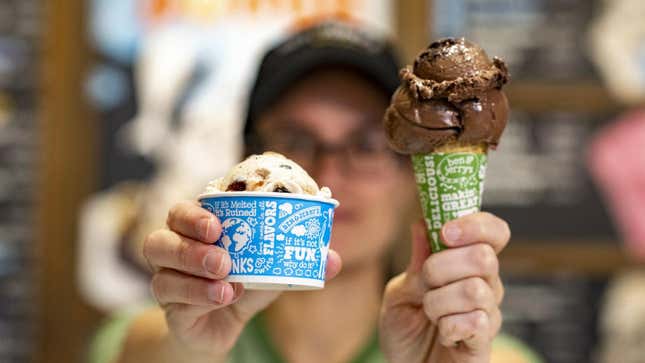 On Monday, a group of scoopers from Ben & Jerry's flagship location in Burlington, Vermont announced their intent to form a union. The group calls itself Scoopers United. On Tuesday, Ben & Jerry's said it supports the move. In other words, the progressive ice cream purveyor allegedly intends to put its money where its mouth is.
Dr. Pepper Strawberries & Cream Is Tearing Us Apart
The unionizing effort seems to have been inspired by, in part, a perceived disconnect between the company's public embrace of progressive values and the in-store treatment of Ben & Jerry's employees. Rebeka Mendelsohn, a shift manager at the store, told Vermont-based Seven Days that "the social activism that we really work for externally just does not exist the way that it needs to internally."
The same Seven Days report described a recent Free Cone Day as a "flash point" for the employees of the store. Managers reportedly removed a tip jar from the counter, a move that employees pushed back on. The tip jar was restored, but something of a movement was born among the workers.
"I think it fundamentally changed the way that I thought about communicating with managers," Mendelsohn told Seven Days.
For both workers and the ice-cream-loving public, it's hard to miss Ben & Jerry's earth-friendly, progressive corporate persona. As The Washington Post put it, "The company, started by two former hippies, has built a reputation on serving up zany ice cream flavors like Half Baked and Cherry Garcia while unapologetically supporting social justice causes." That support is present in its packaging, its general vibe, and, more formally, its stated corporate goals.
The company's website lists its core values as human rights and dignity; social and economic justice; and environmental protection, restoration, and regeneration. The Ben & Jerry's mission includes managing the company for "sustainable financial growth," which includes "development and career growth for our employees."
In its letter, Scoopers United said that despite being privy to and a part of those values upon entry into the company, employees aren't included in conversations about how those values affect the culture within the company's stores.
"When will the activism and social mission our company empower come to reflect its own scoopers, the ones who work every day to keep their lines mooooving? Despite record-breaking profits, incredible bounce-backs post-pandemic, and unwavering smiles, our staff is exploited within our own work environment."
In the hours following the announcement, Ben & Jerry's said the company was "working on" addressing the request.
"The organizers just presented the company with this last night," Sean Greenwood, a spokesperson for Ben & Jerry's, told Vermont-based VTDigger on Monday. "It's an important issue to us, we're aware of it, and we're actively working on it."
By Tuesday, the company had put out a more firm statement of support.
"We recognize and support the rights of all workers to unionize and collectively bargain," an ABC News report quoted the company as saying. "Ben & Jerry's is committed to the goal of operating our company in a way that is fair, inclusive, and equitable, while being a dynamic and fun place for all workers."
The move from Scoopers United comes at a time when unionizing efforts at service-based companies has some momentum. Last year, a Trader Joe's in Hadley, Massachusetts unionized, which was followed by several other Trader Joe's locations doing the same. Meanwhile, Starbucks workers continue to unionize rapidly, despite efforts by the company to suppress unionization.  
Indeed, not all companies sound like Ben & Jerry's in their response to organized labor. In March, Chipotle agreed to pay $240,000 to employees of a Maine store it closed after its workers expressed a desire to unionize, and Starbucks has been found by judges on multiple occasions to have illegally fired employees involved in unionizing efforts.
Given Ben & Jerry's early stated support for its scoopers, plus the company's desire to align itself with progressive values, it will be interesting to see how the company approaches next steps with Scoopers United, and whether its espoused credo of "Peace, Love, and Ice Cream" will indeed prevail at its flagship store.