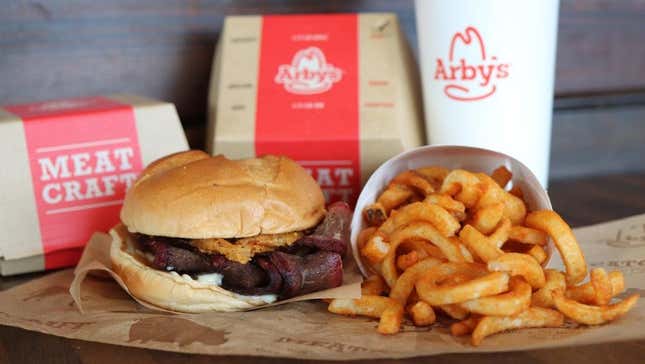 Here we are, back at it again with another high-profile lawsuit calling out a brand for allegedly beefing up its product (literally) to seem like something it's not. A new class action lawsuit has been filed against Arby's Restaurant Group, claiming that the roast beef chain misleads the public about how much meat is contained in each sandwich, and about the quality of the meat itself.
How To Dispose Of Cooking Grease The Easy Way After Frying
The plaintiff, Joseph Alongis, filed the lawsuit in New York federal court on his own behalf and on behalf of customers who have purchased an Arby's Classic Roast Beef, Double Roast Beef, Half Pound Roast Beef, Classic Beef 'N Cheddar, Double Beef 'N Cheddar, Half Pound Beef 'N Cheddar, and/or Smokehouse Brisket menu item from an Arby's restaurant in New York since September 5, 2020. (From this list, it sounds like the burgers are safe from scrutiny.)
The filing alleges that Arby's sandwiches contain about half the meat advertised in its marketing materials, and that the brand intentionally portrays the sandwiches as being larger than they are. The plaintiff alleges he ordered the Double Beef 'N Cheddar sandwich and the Smokehouse Brisket sandwich after seeing an image of the items on an Arby's menu board and expected the sandwiches to have the same amount of meat as what was depicted there.
However, Alongis alleges not only that the sandwiches contained less filling than advertised, but also that the Double Beef 'N Cheddar sandwich did not contain rare roast beef as advertised. Arby's, the filing alleges, misleads customers by pushing all of the sandwich meat to the front of the bun and using props in its photoshoots to make the menu items look comparatively bigger and more full of meat.
For himself and for others who feel they were misled by overstated menu items, Alongis is seeking "monetary damages fully compensating all individuals who purchased an Overstated Menu Item… injunctive relief requiring Arby's to provide corrected advertising and/or to stop selling the Overstated Menu Items," and whatever else the court deems is right.
Other recent fast food class action lawsuits
Though it may be early in this legal beef to determine whether anyone might benefit from a potential settlement, there are plenty of other fast food class action lawsuits to keep an eye on at the moment.
At the end of August, Burger King was slapped with a lawsuit alleging that its Whopper is not as whopping as it seems. Much like the Arby's lawsuit filing, the Whopper lawsuit alleges that menu images make the sandwich appear larger, with as much as twice the amount of meat that a Whopper actually contains, thus constituting a breach of contract. Burger King denied the allegations, saying in a statement that "The flame-grilled beef patties portrayed in our advertising are the same patties used in the millions of Whopper sandwiches we serve to guests nationwide."
An alleged lack of beef has also placed Taco Bell at the center of a class action lawsuit this year. In July, a court filing alleged that Taco Bell misrepresented the amount of meat and beans in its products. The brand's Crunchwrap Supreme, Grande Crunchwrap, Vegan Crunchwrap, Mexican Pizza, and Veggie Mexican Pizza were noted as the "overstated" menu items. The plaintiff came ready with receipts: The filing against Taco Bell included images of the brand's menu items as advertised and compared them to photos taken by customers of the orders they received. Once again, it's much too early to tell if or how much customers might benefit from a settlement on this matter, but the story is one to keep an eye on.
Class action lawsuits of this nature tend to divide the public; some people believe it's a necessary action to hold brands accountable for their advertising claims, while others consider it an underhanded way for consumers to cash in. Either way, these cases come down to the application of the "reasonable consumer standard," which, as Food Dive explains, attempts to discern what an objectively reasonable person would expect to receive, given what was advertised to them. No matter how these current lawsuits proceed, fast food chains should think hard about which promises they're able to deliver on, and which menu items might leave people underwhelmed.