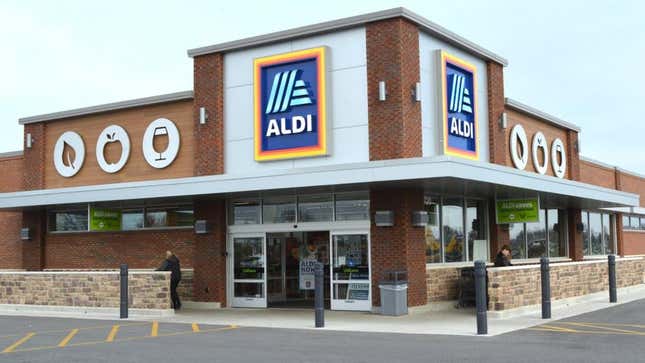 Although it may be getting slightly cheaper to eat at home, grocery prices remain high. In response to this, ALDI is eager to remind shoppers that it's America's fastest-growing grocery store for a reason: the discount chain claims to have found a way to save customers more than $60 million this summer via price cuts.
How To Dispose Of Cooking Grease The Easy Way After Frying
ALDI's summer 2023 discounts, explained
As outlined in a recent press release, ALDI will be dropping prices on more than 250 popular items, including trail mix, sliced salami, coffee creamer, chicken tenders, and a number of other products. The strategic discounts are focused on seasonal items, though the chain did not specify when the summer pricing would end.
"We don't want high grocery prices to get in the way of Americans doing what they love this summer, so we're taking charge to champion value in a way that only ALDI can," said Dave Rinaldo, co-president at ALDI U.S., in the press release. "We're reducing our already low prices on some of the season's most popular items to make sure summer plans aren't disrupted."
ALDI already offers its ALDI Price Promise, which reads in part, "No matter what happens in the world around us, ALDI will always be the low-price leader in every community we serve." This most recent summer discount is noted as an extension of that promise.
Throughout a period of historic grocery inflation, ALDI has been highly strategic in implementing price cuts. During the holiday season last year, the brand introduced the Thanksgiving Price Rewind, which offered lower prices (up to a 30% discount) specifically on typical holiday dinner ingredients such as cornbread stuffing, apple pie, and wine.
On top of seasonal discounts, ALDI has had a reputation for being an affordable chain in general—and one with an expanding footprint. In November, the company announced it had gained a million new customers in 2021, and existing stores saw double-digit sales growth in that same timeframe.
How ALDI keeps its prices low
Why is ALDI able to offer discounts that other chains can't? A number of strategies and approaches add up to money saved.
For example, any regular ALDI shopper knows that you can't depend on a specific set of inventory to remain constant each time you go; shoppers have to be willing to "hunt" for the best items, and the offerings are not consistent store to store. The chain also focuses on private label items, with its own brand making up more than 90% of items sold.
Moreover, ALDI eschews certain common grocery store services like staffing employees at a deli counter or hiring baggers to pack up customers' groceries. The customers themselves have to do that step (mostly with reusable bags or repurposed stock boxes), and ideally they're not being a jerk while they do it.
Finally, ALDI keeps things low-tech. By foregoing the latest trend-chasing upgrades like in-store robots or just-walk-out shopper detection, ALDI saves a lot of money. The store doesn't even play music so as to save on licensing fees.
Seasonal pricing is just the cherry on top of ALDI's consistently fruitful operations. Road trips fueled by beef jerky or picnics with a board of havarti cheese can be a little more enjoyable with this summer discount strategy, and ALDI is hoping to be top of mind when we shop for summer occasions.