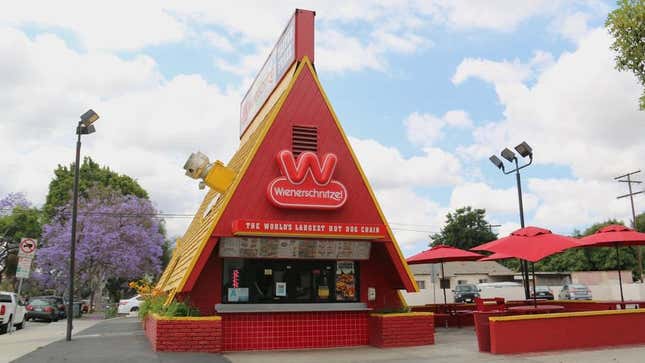 Despite being dubbed the "world's largest hot dog chain," fast food brand Wienerschnitzel currently operates in only 10 U.S. states. However, that might soon change—the company's newest growth plan could lead to new locations across the Midwest, per a Wienerschnitzel press release.

McDonald's Shrinks Its Restaurant for the Digital Age
What is Wienerschnitzel?
Wienerschnitzel is a California-based fast food chain serving up a menu of hot dogs, corn dogs, burgers, a few breakfast burritos, and a spicy Polish sandwich. There are nearly 350 franchise locations in 10 states, most of them in the South and Southwest region of the country. However, a limited-time incentive program for new franchises aims to expand the brand into new markets like the Midwest.
According to Wienerschnitzel's director of franchise development, one strength of the brand is "a unique menu that doesn't compete in the burger, chicken, tacos or pizza segments." It has a few burgers on the menu, sure, but the restaurant's success doesn't hinge on its burgers as, say, Red Robin's does.
For these and other reasons, the chain has maintained sales growth for 12 years running—"continued, consistent momentum," as the press release puts it. And now, Wienerschnitzel hopes to build on that momentum with a new franchising program.
How Wienerschnitzel plans to grow
Hot Dogs for Profits is Wienerschnitzel's newly launched initiative "designed to attract qualified franchisees eager to be part of the legacy brand's aggressive U.S. expansion," per the press release.
The initiative encourages franchisees to sign on to three-store agreements. To get more franchisees in the door, Wienerschnitzel will start off taking only a 1% royalty fee the first year, then scaling up by one percentage point per year, up to 5%. Wienerschnitzel's parent brand, Galardi Group, will kick in $20,000 in local marketing costs (for the first of the three stores), as well as $5,000 in training fees for owners or general managers at all three stores.
A three-store commitment is a large undertaking, and although the company is definitely focused on rapid growth, Hot Dogs for Profits also offers incentives with a single-unit agreement in existing markets. If a franchisee only wants to operate one store instead of three, the incentives are similar, just not quite as lucrative.

What Wienerschnitzel could bring to new markets
Wienerschnitzel has carved out an interesting space for itself in the fast food industry—it knows what it does well and sticks to it. Other fast chains seem to have lost sight of their identities in recent years. Take, for example, Burger King, which has invested $400 million in its "Reclaim the Flame" initiative, getting itself back on track by focusing on its flagship Whopper. Or Subway, whose "Eat Fresh Refresh" campaign overhauled operations and introduced the new Subway Series menu full of new and/or improved sandwiches. But Wienerschnitzel? You're getting hot dogs, and it's hard to mess up a hot dog.
Although it's still early stages, new Wienerschnitzel franchise agreements have already been signed and are slated to open up this year in Arkansas, Idaho, Nebraska, and Texas. There's currently just one location in Illinois, and it's in the state's capital city of Springfield. Perhaps the incentive program will bring a location closer to The Takeout's Chicago HQ, and I'll finally be able to taste for myself what made Wienerschnitzel the world's largest hot dog chain in the first place.