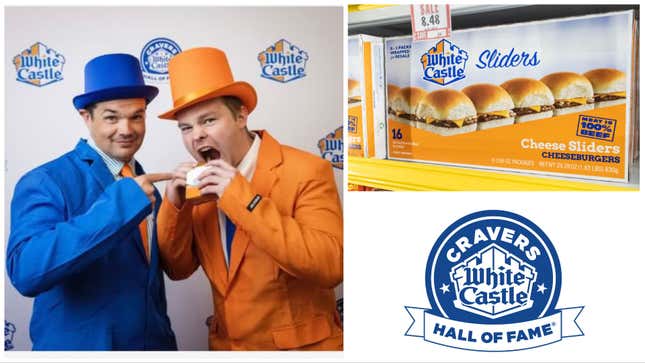 Each year since 2001, White Castle has inducted White Castle enthusiasts, called Cravers, into its Hall of Fame, a hallowed place reserved for the most diehard slider consumers. One might assume that the people who hold the distinction of being in the Craver Hall of Fame have spent hours and hours, over years of their lives, earning the title at their nearest White Castle. And many have. But the story for two of this year's inductees is quite the opposite: They live 300 miles from the nearest White Castle.
How To Dispose Of Cooking Grease The Easy Way After Frying
Jesse and Sam Mattson are a pair of brothers from Essex, Vermont, a town toward the top of state, just north of Burlington. For people who reside in Essex—actually, for people who live pretty much anywhere in Vermont—the nearest White Castle is in Newark. As in, Newark, New Jersey.
Lest you think the Mattson brothers make a habit of driving the five-plus hours it takes to get to Newark, they do not. Instead, their love for White Castle was born in the freezer aisle of their local grocery store. And as their 2023 induction into the Hall of Fame proves, it's a love that has endured.
White Castle's most notable fans
"We shared a room as kids, and some of our best memories growing up were having tons of friends over for sleepovers and staying up all night playing video games and eating White Castle sliders," wrote Jesse when pledging his love for White Castle in an application to enter the Cravers Hall of Fame. "It is my favorite memory with my brother." He went on to share that both he and Sam only visited their first White Castle location two short years ago when they were in Las Vegas to visit their brother, who had joined the Air Force.
"Christmas Eve night we got to eat our very first in-store Burgers at the Las Vegas location, and it was magical," he wrote. "We ate cheeseburgers until we couldn't eat any more. It was our best Christmas."
As it turned out, those memories resonated with the powers that be at White Castle, and the brothers were flown to White Castle HQ in Columbus, Ohio for the induction ceremony.
The White Castle Cravers Hall of Fame
Jesse Mattson tells The Takeout that White Castle's headquarters were like something out of Charlie and the Chocolate Factory.
"They have a very Willy Wonka–esque headquarters," he said. "They have a giant throne made out of wood, a two-story slide, a cafeteria where you can order all this stuff off of screens. It's really crazy."
The group of inductees was given the royal treatment, which included several White Castle meals. Jesse was particularly taken with the breakfast options, which he had never tried before, since they aren't available in the grocery store freezer aisle. (The Mattson brothers' fated Christmas Eve visit to an actual White Castle took place in the evening.)
"They do breakfast sandwich menus, which I think are the best thing on the menu, period," he said. "They use real eggs that they actually break. You can really taste the fact that it's an actual, real egg. They put it on mini waffles, so you have a mini waffle slider breakfast sandwich. Oh my God. It's like their answer to the McGriddle, but it feels a little bit more real and put-together. Like a real sandwich rather than a fast-food breakfast."
One of the more surprising aspects of the experience, Jesse explained, was meeting the other inductees and realizing that there were even bigger White Castle fans than he and Sam. The brothers' fellow inductees included, among others, Roger Bow of Bayside, New York, who has been eating White Castle for over 60 years; and Deborah Doemland of Etters, Pennsylvania, whose family celebrates an annual "Sliders Day" in honor of the date when her grandparents first fell in love over a meal of sliders and coffee.
"There's a lot of dedication to the White Castle burger," said Jesse. "I was surprised at how many other people like us there are. My brother and I are 38 and 32, and we went in thinking, 'We've loved White Castle forever,' and then we go in and talk to a guy who's loved it for 6o years. I was like, okay, I haven't even been alive as long as you've been going to stores. There was a lot of humility in that."
How to enter the White Castle Cravers Hall of Fame
Applications to become one of the next inductees into the White Castle Cravers Hall of Fame are now open. If you think you have what it takes, you can apply here.
Asked if he has any advice for would-be Hall-of-Famers, Jesse encourages any true enthusiast to go for it.
"If it's something you enjoy and you think it's something you would get some enjoyment out of, try it," he said. Just be prepared to eat a lot of White Castle if you get chosen.
"White Castle was the only thing we ate for two days," Jesse said. "We landed, we got White Castle. They gave us White Castle lunch, and we got White Castle dinner, and we woke up the next morning, and got White Castle breakfast."
As a fellow Vermonter, I'm impressed with Jesse and Sam's love for White Castle, and am also debating whether or not I should drive to Newark to experience the dining room for myself. Sure, we'll always have the freezer aisle. But, I mean, those breakfast sandwiches sound pretty good, right?