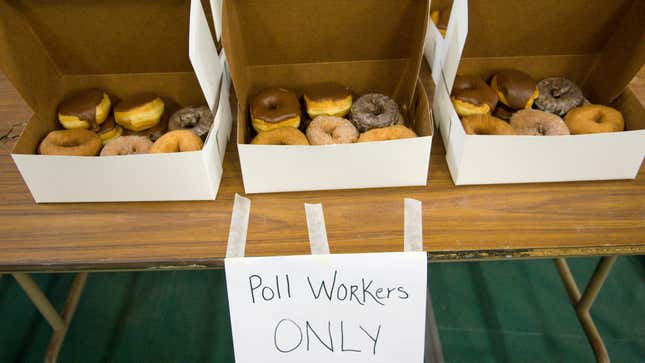 Good morning. It is Election Day 2020.
How... are you?
If you're anything like me, you're feeling weird, stressed, and a little unfocused. You've also hopefully participated in the democratic process by canvassing, phone banking, or voting—ideally, all of the above. And that means you deserve a tasty morsel.
How To Dispose Of Cooking Grease The Easy Way After Frying
Thankfully, we've rounded up a whole bunch of ways to score free and steeply discounted foodstuffs today. Some of these freebies are Election Day-related, others (like the McDonald's promotion) just happen to take place this week. Today is also National Sandwich Day, which means you can score deals on anything between two buns. (Well, not anything.)
Boston Market: Customers can get a free slider after 9 p.m. because "Election Day could stretch well into the evening and beyond."
Chili's: Perhaps you would enjoy some alcohol! If so, you can grab a Chili's Presidente margarita for $5 all day today. Plus, if you share a marg pic on social media with #PresidenteForPrez, you'll be entered to "Live Like a Presidente for a year," a prize package that involves an at-home margarita machine and free Chili's for a year.
DoorDash: DoorDash is slashing delivery fees for all Election Day orders of at least $15 with the promo code "VOTE." If you already get free delivery through DashPass, you can get 10% off your order (up to $5) with the code DPVOTE.
Jersey Mike's Subs: Order through the app and use code SANDDAY2OFF to get $2 off any regular sub.
Jimmy John's: JJ's is offering 50% off any 8-inch sandwich to rewards members. You can also snag a buy one, get one half-off deal on all 8-inch and 16-inch sandwiches through November 8 with code SAVEON2. Some exclusions apply.
Krispy Kreme: Wear your "I Voted" sticker to Krispy Kreme today for a free glazed donut.
McDonald's: As part of the new McDonald's breakfast menu roll-out, you can grab a free apple fritter, blueberry muffin, or cinnamon roll with the purchase of a hot or iced coffee through the McDonald's app. If you need a pick-me-up tomorrow (or the next day, or the day after that), the deal runs through November 9.
Shake Shack: If you're a badged poll worker, stop by any Shake Shack for a free burger.
Wendy's: Get a free Classic Chicken Sandwich with any purchase. This one also runs through November 8.
Did we miss a hot deal? By all means, let us know in the comments. Let's do this, party people.